Shrimp a la plancha and Grits with Creole Chutney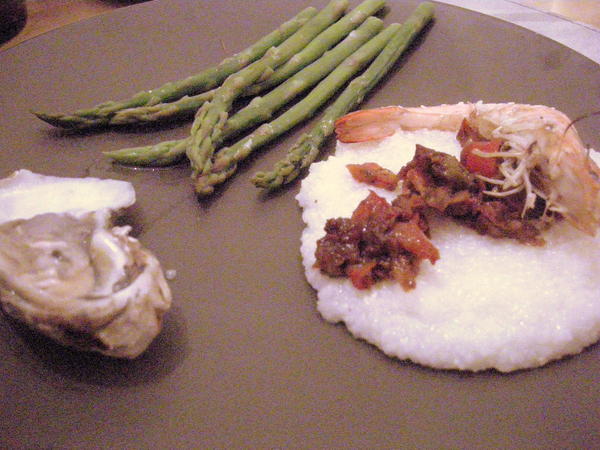 This was inspired by the Jose Andres' Gambas a la Plancha recipe, and having some fresh shrimp from Arganica. I was feeling a craving for a more cajun-y shrimp-and-grits setup, however. So, I figured there's no reason not to just do both. I left the grits simple, and focused on the shrimp and the chutney-like goop.
A ton of salt
3 whole shrimp per person
grits, plus water and butter for their preparation.
For the creole chutney:
1/2 medium onion, chopped
4 cloves garlic, minced
1 mild jalapeno
1/2 bell pepper (red preferred)
1 small tomato
1 tsp molasses
4 TBSP red wine vinegar
1 tsp liquid smoke
2 TBSP olive oil
1 TBSP celery salt
1 tsp gumbo file (sasafrass)
1 dash Old Bay
Warm the olive oil in a small sautee pan. Add in onion and garlic, and sautee until soft. Add in the molasses and liquid smoke . Reduce heat to low and allow to carmelize - 10-15 minutes. Add in the jalapeno, bell pepper and tomato and the spices, let soften. Add the vinegar and let reduce. Add more vinegar if needed.
While that's simmering down, heat the griddle and prepare the grits.
For the grits:
1/2 cup grits
2 1/4 cups water
2 T unsalted butter
1 t salt
1 t minced garlic
1/2 cup grated cheese (a 50/50 mix of cheddar and jarlsberg works great)
dash paprika
Boil the water. Stir in salt and grits. Cover and simmer for 10 minutes. Stir in garlic and butter. Cover and simmer for another 10-15 minutes, until thickened. 5 minutes before serving, stir in the cheese to melt it. Sprinkle paprika as a garnish. Option: use blue cheese (roquefort) instead of cheddar!
Cooking the Shrimp
Grill shrimp on an indoor griddle with salt piled up to the level of the griddle. Grill whole shrimp for 3-4 minutes on the first side, 3 on the second. See Jose Andres' Gambas a la Plancha recipe for cooking details there.
Alternatively (and a bit more simply), mix the dry spices. Toss the shimp in melted butter, then with the spices. Heat a cast iron skillet to very hot; toss in shrimp. Cook ~ 3 minutes each side, until blackened and a bit firm.
Season:

Cuisine:

Recipe: Course:

Recipe: Main Ingredient: