Thai Beef Salad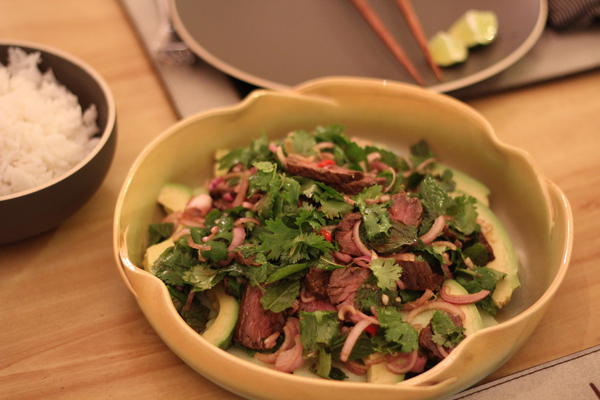 Adapted from Cook's Illustrated.
This recipe is a great way to use leftover spicy tamarind steak. Serve with steamed white rice.
3 tablespoons lime juice (from 2 limes)
2 tablespoons fish sauce (sub soy sauce)
½ teaspoon sugar
2 shallots, sliced thin
1½ cups fresh mint leaves, chopped
1½ cups fresh cilantro leaves, chopped
1 Thai chili, stemmed and sliced thin into rounds
1 seedless English cucumber, sliced thinly or diced
1 tablespoon white rice (optional)
Cook a tasty Spicy Tamarind Steak.
Whisk lime juice, fish sauce, and sugar in a large bowl.
Add the shallots, mint, cilantro, and chili; toss to combine.
If steak is freshly cooked, serve hot alongside salad. If steak is leftover (cold), slice thinly, add to salad, and toss.
Sprinkle with optional rice powder and enjoy!
Optional toasted rice topping:
Toast rice over medium heat, stirring frequently, until deep golden brown, about 5 minutes.
Transfer to a second small bowl and cool for 5 minutes.
Grind the rice with a spice grinder, mini food processor, or mortar and pestle until it resembles fine meal, 10 to 30 seconds.
Store in a cool, dry place and it will keep until the next time you make this dish.