Thai Beef Salad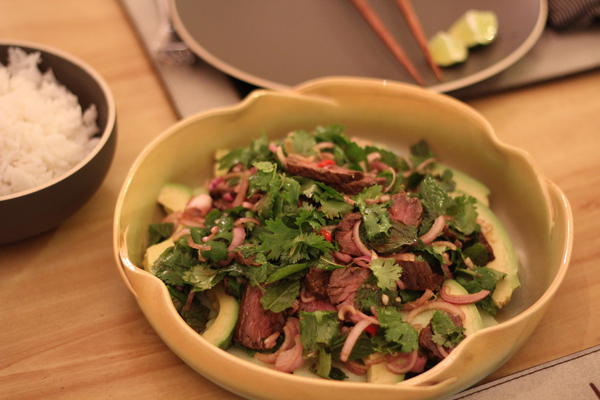 Adapted from Cook's Illustrated.
You can either cook a hangar or flank steak as described here or use our tasty Spicy Tamarind Steak recipe instead.
1 tablespoon white rice
1½ pound flank steak, trimmed
Salt and white pepper, coarsely ground
3 tablespoons lime juice (from 2 limes)
2 tablespoons fish sauce
½ teaspoon sugar
4 shallots, sliced thin
1½ cups fresh mint leaves, torn
1½ cups fresh cilantro leaves
1 Thai chile, stemmed and sliced thin into rounds
1 seedless English cucumber, sliced ¼ inch thick on bias
Toast rice over medium heat, stirring frequently, until deep golden brown, about 5 minutes.
Transfer to a second small bowl and cool for 5 minutes.
Grind the rice with a spice grinder, mini food processor, or mortar and pestle until it resembles fine meal, 10 to 30 seconds (you should have about 1 tablespoon rice powder).
Season steak with salt and pepper.
Grill over high heat for about 5 minutes per side.
Allow to rest for 10 minutes.
Slice against the grain and on the bias, into ¼-inch-thick slices.
Whisk the lime juice, fish sauce, and sugar in a large bowl.
Transfer the sliced steak to the bowl.
Add the shallots, mint, cilantro, chile, and half of the rice powder; toss to combine.
Transfer to a platter lined with cucumber slices.
Serve, passing the remaining rice powder separately.