Coconut Sticky Rice with Mango
While a perfectly ripe mango is delicious on its own, coconut sticky rice makes a marvelous pairing. The coconut sticky rice can also mask a less-than-perfect mango to make a delightful treat. Adapted from my favorite Thai food blog, She Simmers.
Serves 2-4
1/2 cup uncooked sticky rice, cooked
1/2 cup coconut milk, or whatever you have leftover in your can from whatever you made earlier
1/4 cup or less sugar, to taste
1 Pandanus leaf, torn into pieces
1 mango, cut into ~1" pieces
Bring coconut milk, sugar, and pandanus leaf to a gentle boil in a small, thick pot.
Remove from heat.
Remove pandanus leaf pieces.
Add rice.
Cover and leave undisturbed for 10 minutes. Rice should have absorbed all of the coconut milk.
Mix in mango pieces, leaving a few aside for garnish.
Serve in small bowls, topping with reserved mango pieces.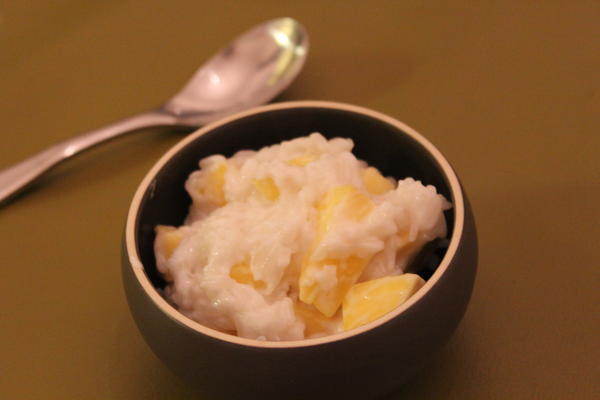 Season:

Cuisine:

Recipe: Course:

Recipe: Main Ingredient: