Dashi (Japanese Seaweed Stock)
This is a basic recipe for dashi, or seaweed stock (as I would describe it). It is the basis for many Japanese soup recipes. I consider the American equivalent (not in flavor, but in use) to be chicken stock.
4 large strips of Dried Kombu (dried kelp), cut into roughly 4x4 inch squares
1 Tbsp mushroom buillon base
6 cups of cold water
6 dried shiitake mushrooms
Soak the dried kombu and shiitake mushrooms in the cold water in the pot for about 20 minutes. Then bring to boil. Remove the seaweed and shiitake and add the buillon base. Turn off heat and allow it to steep for another 5-10 minutes or so. Save the shiitake mushrooms, if desired. The broth should be a clear light golden yellow color.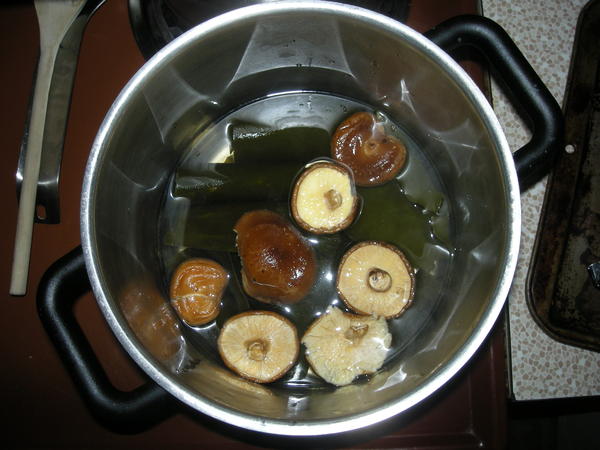 Cuisine:

Recipe: Course:

Recipe: Main Ingredient: