Doro Wot
4 chicken thighs
2 T fresh lemon juice
2 tsp salt
2 onions, finely chopped
¼ C nit'r qibe (spiced butter, or just unsalted butter)
4 cloves garlic, minced
1" grated ginger
2 tsp ginger
¼ tsp ground fenugreek
¼ tsp ground cardamom
¼ C Berbere
2 T paprika
¼ C dry red wine
2 C water water
1 hard-boiled egg per person
Salt and pepper to taste
Break down, rinse, and dry the chicken pieces. Rub with lemon juice and salt.
In a heavy enamel stew pot, cook the onions, dry, over moderate heat for about 5 minutes. Do not let brown or burn.
Stir in the butter. Then add the garlic, ginger, and spices. Stir well. Add the berbere and paprika, and sauté for 10 minutes, adding water to prevent sticking.
Add the wine. Pat the chicken dry and drop it into the simmering sauce, turning the pieces about until coated on all sides. Add the remaining water as needed. Reduce the heat, cover, and simmer for 1 hour, continuing to add water.
After the chicken has cooked, add the eggs and turn them gently in the sauce. Cover and cook the doro wat for 15 more minutes. Add salt and pepper to taste.
Guidance from http://amomentcherished.blogspot.com/2013/02/gena-revisted-ethio... and https://www.youtube.com/watch?v=FjmvQb_JWYI&noredirect=1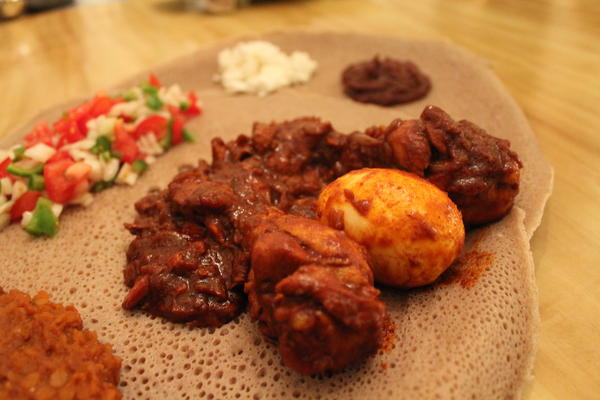 Season:

Cuisine:

Recipe: Course:

Recipe: Main Ingredient:

WikiTags:

Specialty Ingredients: