Mesir Wot
1 C red lentils
3 T nit'r qibe / oil
1 large onion, chopped
3 cloves garlic, minced
1 tsp ginger
½ tsp ground cardamom
⅓ C berbere spice
salt, pepper, sugar to taste
Place the onion, garlic and ginger in a food processor or blender and puree. Add a little water if necessary.
Heat the oil in a large, heavy-bottomed saucepan over medium heat. Add the berbere spice and cardamom, stirring constantly to cook spices through, about 1 minute
Add the onion puree and sauté until the excess moisture evaporates and the onion loses its raw aroma, about 5-10 minutes, being sure not to burn the mixture.
Add ¼ cup of water and the lentils. Sauté, stirring with a metal spatula almost constantly, until water is absorbed.
Continue adding water about ¼ cup at a time, allowing the lentils to scorch to the bottom a bit, but not burn, scraping the caramelized lentils into the rest of the wot to give it a sweet, nutty flavor.
Continue this until the lentils are fully cooked, ~45 minutes.
Top the mesir off with enough water to give it a nice, wot consistency if needed.
Adjust seasoning an add salt and a bit of sugar, if necessary.
Guidance from http://thespiceisland.blogspot.com/2012/11/truly-authentic-mesir... and http://forbiddenriceblog.com/2014/10/01/ethiopian-food-part-3-me...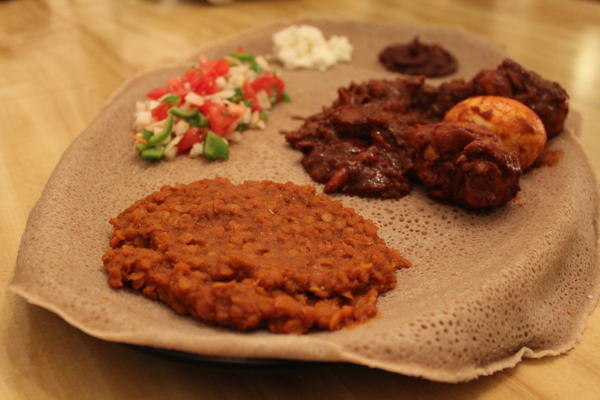 Season:

Cuisine:

Recipe: Course:

Recipe: Main Ingredient:

Specialty Ingredients: