Spicy Tamarind Hanger Steak
3 chiles (Thai, serrano, or jalapeño), thinly sliced into rounds
¼ cup tamarind concentrate
3 tablespoons light brown sugar
1 tablespoon kosher salt
1 tablespoon vegetable oil, plus 4 tsp more for cooking
1½ pound hanger steak, de-membraned and cut into 4 pieces
Whisk chiles, tamarind, brown sugar, salt, and 1 Tbsp. oil in a shallow baking dish until sugar is dissolved. Add steak and turn to coat. Cover and chill at least 4 hours, or up to a day.
Heat 2 tsp. oil in a large skillet over medium high heat. Working in 2 batches (if needed) and adding remaining 2 tsp. oil between batches, cook steak until deeply browned on all sides, 8-10 minutes total for medium-rare.
Transfer steak to a cutting board; let rest at least 5 minutes before slicing.
Optionally, deglaze pan with the rest of the marinade and some soy sauce for a nice jus.
Recipe adapted from http://www.bonappetit.com/recipe/spicy-tamarind-skirt-steak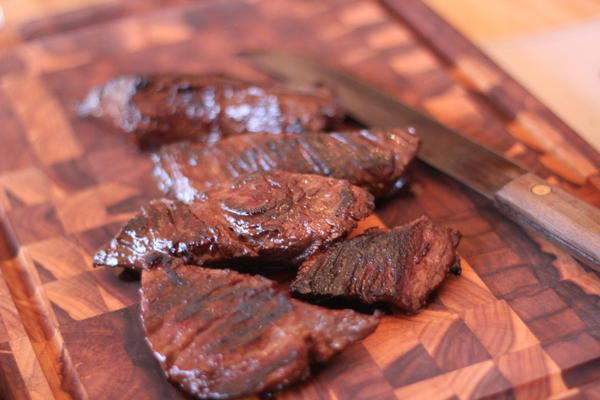 Season:

Cuisine:

Recipe: Course:

Recipe: Main Ingredient:

WikiTags:

Specialty Ingredients: