Three Indian Chutneys
These three sauces go great with naan, chana chat, and ragda patties.
Mint Chutney
The Mint Chutney recipe from indianfoodforever works really well. A "bunch" of mint turns out to be around 1 cup loosely packed leaves to balance out a spicy green chili; less for a less spicy pepper -- I used a homegrown thai pepper, and it... took a lot of mint. I also added in a tablespoon or two of lime juice. Tamarinds are available in the "tropical fruits" bin at Harris Teeter, Whole Foods, and almost any Latin American or Indian grocery; the paste tastes sulphur-y (like Molasses), the soak method below really does work!
1 bunch fresh mint leaves, chopped
2 green chillies, finely diced
2 tbsp tamarind pulp with water (see below)
1 tbsp lime juice
Salt To Taste
To make tamarind pulp soak tamarind seeds (remove the brittle shell and the veins) in water and keep aside for 2 hours; extract the seeds and seed-casing skin with a spoon.
Grind (blend) it to a smooth paste with green chillies, lime, salt and tamarind juice.
Tamarind Sauce
1 cup tamarind goop, 3 cups boiling water
1 Tbsp Ground cumin
2 t Ground ginger
2t Garam masala
Salt -- to taste
Soak the tamarind pulp in the hot water for about 30 minutes to soften it up. Using the back of a fork, mash it into the water to dissolve the pulp. Press through a sieve, discarding the fibers and seeds.
Add the tamarind water with the remaining of ingredients and puree in a blender. Adjust seasoning and serve.
Coriander (Cilantro) Chutney
1 bunch (2 cups loosely packed) cilantro
2 Jalapenos or chile peppers
1 dash Raita spice / Chat Masala
1 dash roasted cumin
1 t Lemon Juice
1" piece Ginger
Salt – to taste
Oil – 1 tsp
Add all the ingredients (except Oil) into a blender and blend to a smooth paste. Pour chutney into storage container. Drizzle with oil on top to help keep vibrant green color.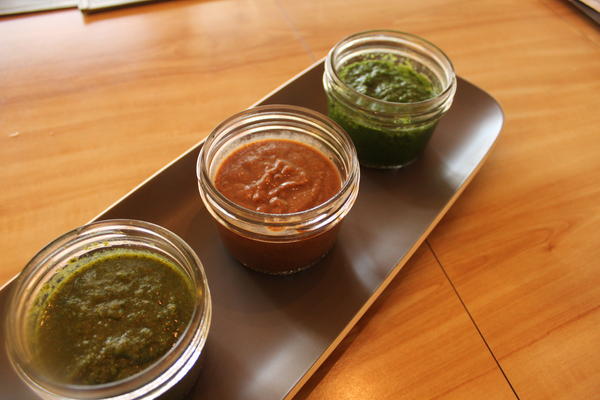 Cuisine:

Recipe: Course:

Recipe: Main Ingredient: