ZilZil Tibs
14 ounces skirt steak
2 1/2 tablespoons berbere rub (see above)
4 tablespoons (1/2 stick) unsalted butter, cut into 4 pieces
1 large white onion, chopped (1 1/2 cups)
1 large tomato, cut into large dice (1 1/2 cups)
Kosher salt
Freshly ground black pepper
1/4 cup sliced jalapeño pepper (seeded or unseeded), or to taste
Cut the meat into 1-inch strips, placing them in a bowl as you work. Sprinkle 1 1/2 tablespoons of the rub over them and toss to coat evenly. Cover and refrigerate for 1 hour.
Melt half of the butter in a medium skillet over medium heat.
Add the onion and tomato, stirring to coat.
Add the seasoned beef; cook for about 5 minutes, then add the remaining tablespoon of rub, stirring to create a bit of clingy sauce.
Cook the meat for a few more minutes; taste, and add salt and pepper as needed.
Stir in the remaining butter and the jalapeño slices (to taste).
Adapted from http://www.washingtonpost.com/pb/recipes/awaze-beef-tibs-with-ki... ; see also: http://ethiopianrecipes.net/zilzil-alecha/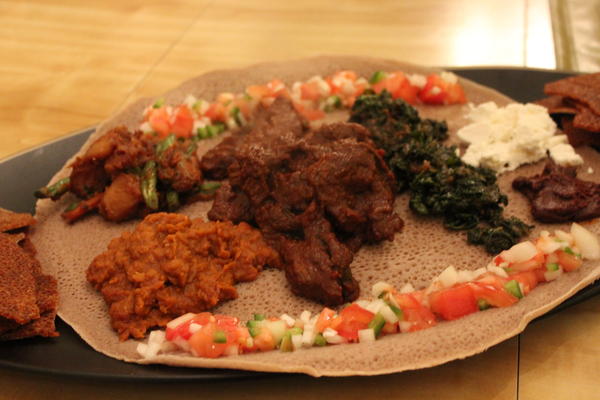 Season:

Cuisine:

Recipe: Course:

Recipe: Main Ingredient:

Specialty Ingredients: