Ajo Blanco
1 1/2 lbs blanched almonds
6 cups water
2 large or 3 small garlic cloves
1/3 cup sherry vinegar
2 1/2 cups good extra virgin olive oil
3 slices rustic style bread, crusts removed
1 Tbsp chopped chives
pinch of salt
Put blanched almonds into a bowl and cover with water. Let the almonds soak overnight. Don't throw out the soaking water!
Bring 2 cups of water to a boil in a small pot over high heat. Add the garlic and boil for one minute until garlic gets soft. Drain from water.
Put the almonds and soaking liquid in a blender or food processor. Add the garlic, 3/4 cup of vinegar, 2 1/2 cups of olive oil, and bread (left soaking in some milk). Puree until smooth. If the mixture is too thick feel free to add some water to loosen it up. Strain the soup, discarding solids, if needed. Let the soup chill for at least 30 minutes. This soup is served cold.
Quarter the figs to use as garnish. Use fresh figs when they are in season. Put one quarter in each soup bowl as well as some chopped chives. You can also finish with a drizzle of extra virgin olive oil.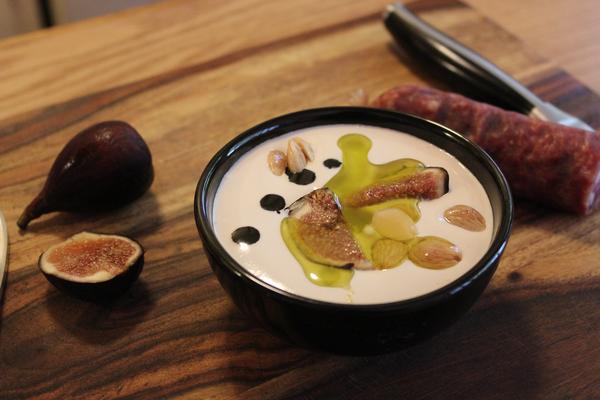 Season:

Cuisine:

Recipe: Course:

Recipe: Main Ingredient: