Argentine Chimichurri
Oh, how I learned to love a steak while honeymooning in Argentina.
Chimichurri, you are the secret.
So delicious.
And delightful.
You have brought me to the land of grilled meats.
And my grill-master husband thanks you.
Forever, and beyond.
Head of garlic (~ 10 cloves)
1/2 medium or whole small onion, chopped
1/3 cup roughly chopped red bell pepper
1/2 bunch parsley, leaves and tender stems only, roughly chopped
1 tsp dried oregano
1 tsp dried thyme
1 large bay leaf, crumbled
1/2 tsp sweet paprika
1/2 tsp red pepper flakes
1 tsp salt
1/2 tsp ground pepper
1/3 cup red wine and/or sherry vinegar
1/4 - 1/2 cup olive oil
Separate and peel garlic cloves. Roughly chop garlic and add to roughly chopped onion, pepper, and parsley. Put in a bowl with spices. Toss well and allow flavors to blend for ~15 mins.
Add vinegar to mix, and pulse in food processor until consistency of finely minced garlic (i.e. very very small chunks, but not quite smooth).
Mix in 1/4 cup oil. If more oil is desired, add 1/8 cup at a time until you are satisfied with the consistency/oiliness. (This is mainly a personal preference, within some bounds. You don't want the chimichurri to be too oily, but you do want enough oil to envelop the mix and help preserve it while it is in the fridge for the many months it will take you to eat it down.)
Let flavors meld for a few hours before serving.
Store in a glass jar in the fridge for up to 4 months, more or less.
This recipe will make a little less than a pint, which should be enough for a summer's worth of steak grilling for one to two people.
This recipe is my own creation, but based on blend of recipes, including one from a guide to food and drink in Argentina.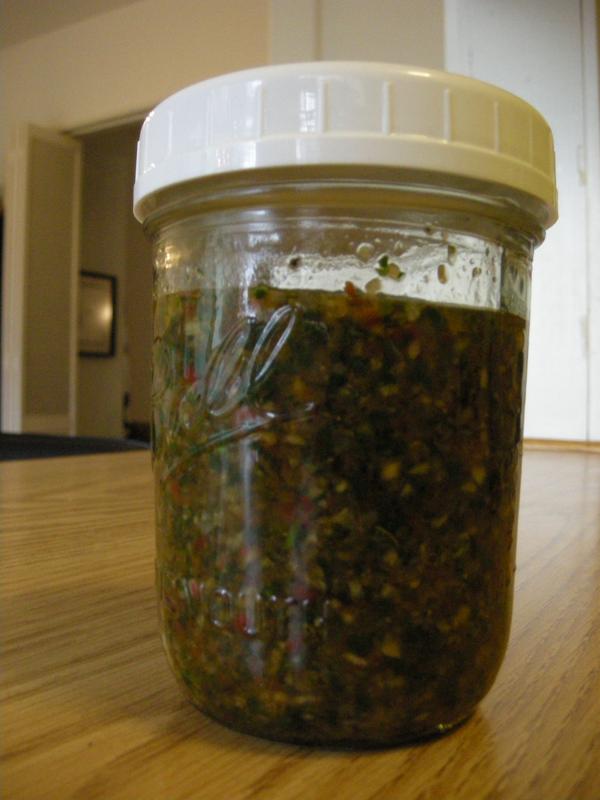 Season:

Cuisine:

Recipe: Course:

Recipe: Main Ingredient: