Ceviche
Adapted from Bon Apetit, ~4 servings
Leche De Tigre
⅔ cup fresh lime juice
2 garlic cloves, smashed
1 tablespoon (packed) chopped fresh cilantro leaves

½ ají limo or habanero chile, seeded, halved lengthwise

½ small red onion, chopped

½ cup bottled clam juice (optional)
Kosher salt
Purée first 4 ingredients and 4 large ice cubes in a blender until smooth. Add onion; pulse 3–4 times. Strain liquid into a medium bowl. Stir in clam juice, if desired; season with salt. Cover and chill.
Ceviche
1 pound tuna, flounder, or sole, cut into 1/4-inch cubes
1 small sweet potato (about 8 ounces), cooked and cooled
1 ear of corn, husked (optional), cooked and cooled
1/2 ají limo or habanero chile, seeded, halved lengthwise
1 small red onion, quartered and thinly sliced, divided
Kosher salt
Cilantro leaves
Halve potato lengthwise. Using a small melon baller, scoop out potato balls and place them in a small bowl; set aside. Cut kernels from cob. Reserve 1/3 cup kernels (save extra kernels for another use).
Rub a large bowl with cut sides of chile; discard.
Place fish, 2/3 of onion, and leche de tigre, in bowl; stir well. Let marinate in the fridge for 20 minutes. Fold in potato and corn; season with salt.
Using a slotted spoon, divide ceviche into small bowls or onto plates. Drizzle ceviche with leche de tigre from bowl; garnish with remaining onion and cilantro.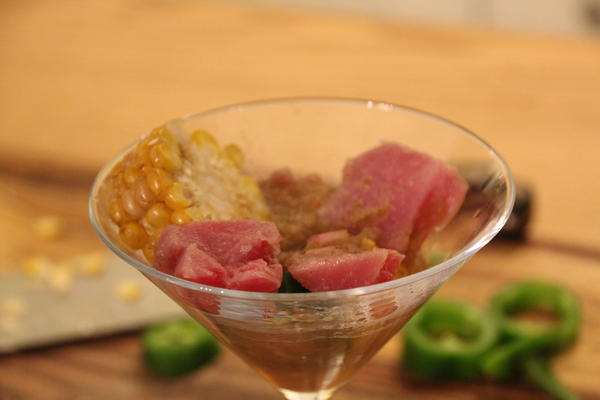 Season:

Cuisine:

Recipe: Course:

Recipe: Main Ingredient: