Chicken Satay
We generally followed this recipe, except we used a whole chicken and only cut up the breasts and thighs. We left the wings and drumsticks in tact, and just ate them. It being winter, we just broiled the whole thing for about 10-15 minutes, though traditionally this recipe would be skewered and BBQ'd.
Ingredients:
1 chicken, cut into piece parts; breasts and thighs cut into pieces
SATAY MARINADE:
1/4 cup minced lemongrass, fresh or frozen (if using fresh, use only the soft inner part)
1 small onion, lightly chopped
2 cloves garlic
1 thumb-size piece galangal or ginger, peeled and sliced
1/4 of thumb-size piece fresh turmeric, OR 1/2 tsp. dried turmeric
2 Tbsp. coriander seeds, ground in a coffee grinder, OR 1 Tbsp. ground coriander
2 tsp. cumin
3 Tbsp. dark soy sauce
4 Tbsp. fish sauce or 2 tsp salt
5 Tbsp. brown sugar
1 Tbsp. fresh lime juice
Preparation:
Place all marinade ingredients in a food processor (discard the upper stalk of lemongrass, if using fresh). Process well.
Taste-test the marinade - you will taste sweet, spicy, and salty. The strongest tastes should be SWEET and SALTY in order for the finished satay to taste its best. If necessary, add more sugar or more fish sauce (instead of salt) to adjust the taste.
Add the marinade to the meat and stir well to combine. Allow to marinate for at least 1 hour, or longer (up to 24 hours). When ready to cook, lightly brush off extra marinade with brush or paper towel, taking special care to remove the "grassy" pieces of lemongrass.
Barbecue the satay on skewers, OR grill on an indoor grill, OR broil it in the oven on a broiling pan or baking sheet with the oven set to "broil" (Place satay close beneath the heating element and turn the meat every 5 minutes until cooked). Depending on how thin your meat is, the satay will cook in 10 to 20 minutes.
Serve with peanut sauce for dipping.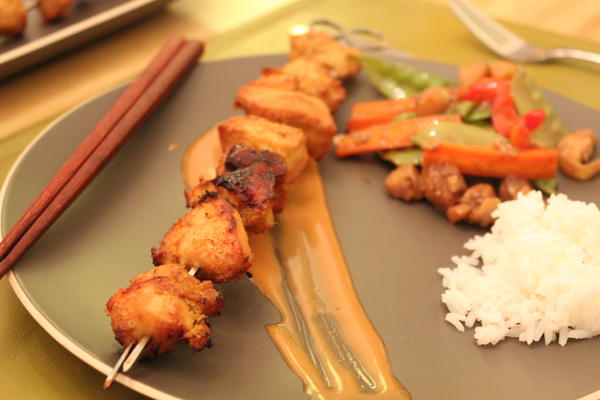 Season:

Cuisine:

Recipe: Course:

Recipe: Main Ingredient:

WikiTags: