Cold Soba Noodle Salad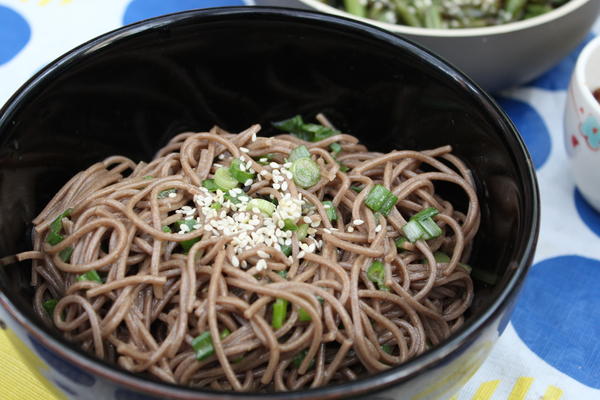 A great side dish that could, with the addition of a protein, take center stage. Goes great as a side to Japanese grilling.
1/2 packet (~4.5 oz) soba noodles
1/4 cup rice vinegar
2 tablespoons soy sauce
2 tablespoons Asian sesame oil
1 tablespoon wasabi paste
1/4 cup minced green onions
In a large bowl, mix rice vinegar, soy sauce, sesame oil, and wasabi. Pour about half the dressing into a small bowl and reserve, keeping the rest in the bowl.
In a pot, boil water and cook the soba noodles until tender - about 4 minutes. Drain noodles and rinse gently under cold running water until cool.
Add noodles to the large bowl; mix to coat. Cover and chill until cold, about 1 hour.
Just before serving, add reserved dressing to noodles and mix to coat. Sprinkle salad with green onions.
Original recipe from: http://www.myrecipes.com/recipe/cold-soba-noodle-salad-100000006...
Season:

Cuisine:

Recipe: Course:

Recipe: Main Ingredient: