Yakiniku (Japanese Grilled Meat or BBQ)
2 boneless, skinless chicken breasts (skin removed and cut into 1 1/2" cubes)
Marinade:
1 scallion (white part only, cut into very thin slices)
1 tbsp miso paste
2 tbsp mirin
1 tbsp sake (or dry vermouth)
1 slice bacon
Yakiniku no tare (for basting and dipping)
1 cup low-salt chicken broth
3/4 cup mirin (sweet Japanese rice wine)
1/2 cup reduced-sodium soy sauce
1/4 cup sake (or more mirin and some vermouth)
3/4 teaspoon (packed) light brown sugar
1/4 teaspoon freshly ground black pepper
2 garlic cloves, crushed
2 scallions, chopped
2-inch-piece peeled ginger (1/2 ounce), sliced
teaspoon sesame oil
You'll need to prepare the marinade and cube the chicken approximately 1 hour before serving.
Mix together the miso paste, mirin, and sake. Add in the scallion and as-finely-chopped-as-possible raw bacon. Using a hand blender or food processor, paste-ify the ingredients and toss the chicken in the goop. For a bit more detail on Bacon Paste, read this recipe at CI. It seems gross, but it doesn't add a bacony flavor and keeps the chicken super moist.
For the Tare, place a fine-mesh sieve over a small bowl. Bring all ingredients to a boil in a small heavy saucepan, stirring until sugar dissolves. Reduce heat to medium-low and simmer until reduced to a generous 1/2 cup, about 20 minutes. Strain sauce, let cool. The leftover solids are great to nibble on or include in a cold sobe noodle salad or fried rice.
After resting in the marinade, skewer the cubes and grill them over medium-high heat until carmelized on all sides and cooked through, basting with the Tare often.
Marinade via RasaMalaysia: http://rasamalaysia.com/yakiniku-recipe-japanese-bbq/2/
Tare recipe from Bon Appetit: http://www.bonappetit.com/recipes/2012/05/tare-soy-basting-sauce
Bacon trick courtesy Cooks Illustrated: http://www.cooksillustrated.com/recipes/detail.asp?docid=27833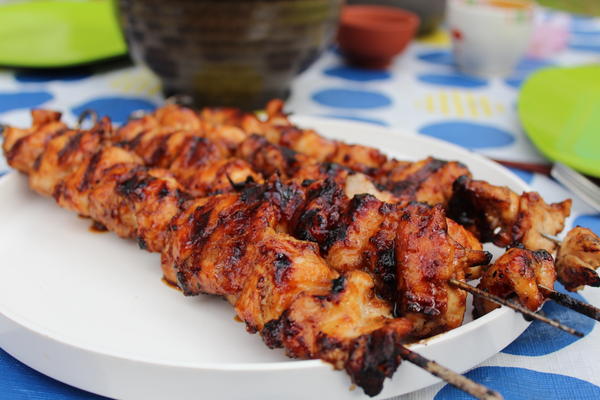 Season:

Cuisine:

Recipe: Course:

Recipe: Main Ingredient:

WikiTags: