Dill Cucumber Salad
A cool, refreshing side dish. Inspired by these two recipes, but mostly a notional recipe.
1 large English cucumber, sliced on a mandolin to 1/8" thick
1/2 small red onion, also sliced on a mandolin to 1/8" thick (optional)
1/2 cup sugar
1/2 cup water
1 cup mix of your favorite vinegars (I used mostly white vinegar + cider vinegar + red wine vinegar)
1/4 cup dill, chopped (optional)
Place sliced cucumbers in a colander and sprinkle with salt. Put in sink.
Let sit for at least 15 minutes, up to one hour, occasionally stirring/turning.
Squeeze to get rid of excess moisture.
Put cucumbers in a heat-proof container like a glass jar.
Combine sugar, water, and vinegar in a saucepan and heat until sugar is dissolved and mixture is almost boiling.
Pour over cucumbers, onions, and dill (if using).
Let marinate in refrigerator for at least 2 hours, or longer for more pickling.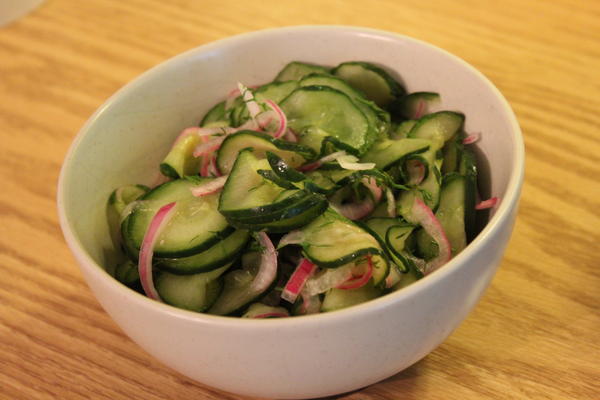 Season:

Cuisine:

Recipe: Course:

Recipe: Main Ingredient: