Jamaican Coconut Soup
Inspired by a soup served at Hotel Mockingbird Hill, Jamaica, which is captured here and here.
Serves 4-6 as a side
2 cups vegetable broth
2 cans (28oz) coconut milk (milk of two dried coconuts)
2 tbsp butter or coconut oil for frying
8 cloves garlic, sliced
1/2 medium white onion
1 sprig of thyme
1 tsp salt
1 hot pepper (scotch bonnet or habanero), whole
1 scallion, green parts chopped for garnish
Brown 1/4 of the garlic slices until crisp. Set aside for a garnish.
Add the remaining garlic and all the onion. Sautee until almost caramelized.
Add broth and coconut milk, stir and bring to boil
Add thyme, salt, and whole hot pepper, and let simmer quickly, until creamy and reduced (20-30 minutes).
Use an immersion blender to help make a smooth consistency (take out the pepper before you do that!)
Serve with scallions and reserved garlic on top.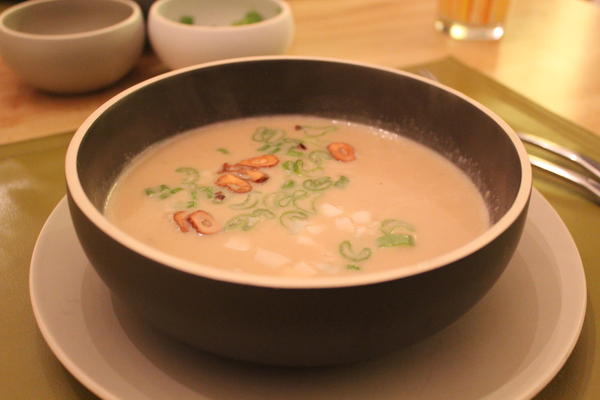 Cuisine:

Recipe: Course:

Recipe: Main Ingredient: