Maraschino Cherries
Running recipe work:
Based from Drink Dogma's version of the Art of the Bar recipe with suggestions from The Cupcake Project and canning and liqueur/simple syrup additions, as well as the idea for using strawberries for coloring from the comment thread on Blogher:
1 pound stemmed, unpitted cherries
1/2 cup sugar
1/2 cup water
1 Tbsp lemon juice
1 tsp cinnamon
2/3 cup liqueur (primarily brandy; I used 1/2 cup brandy, a dash of pomegranate syrup ("grenadine"), and the rest sweet vermouth -- let's be honest, these cherries are on their way to Manhattan(s))
In a saucepan, combine sugar, water, cinnamon and lemon juice, and bring to a rolling boil, reduce the heat to medium. Add the cherries and simmer for 7 minutes.
"As for the color - judging from the "maraschino strawberries" I did with the leftover syrup, I think you could add strawberries to the syrup mixture (removing before you add the cherries) and you would get that crazy bright red."
(I simmered the syrup and cherries in the saucepan we'd just used to make some batches of strawberry jam for this effect, and reduced the sugar slightly)
Remove from heat, remove the cinnamon sticks, add the brandy or maraschino liqueur.
Pack the cherries into jars. If there is room left, fill it with the simple syrup/liqueur mixture until 1/4 inch from the top.
Process jars for 10 minutes at high boil.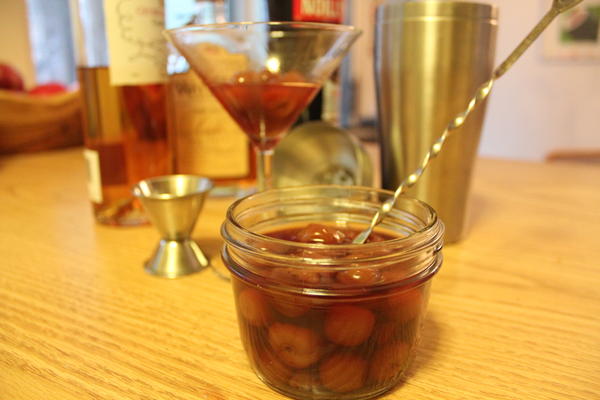 Season:

Cuisine:

Recipe: Course:

Recipe: Main Ingredient:

Specialty Ingredients: