Melon and Mint Tabbouleh
A twist on a classic mediterranean salad. The melon makes it sweet instead of savory. Any kind of melon will do. Should keep in the fridge about 5 days. The lime juice will slowly absorb into the bulgar, so add extra lime each day to bring back the tang.
http://www.epicurious.com/recipes/food/views/Melon-and-Mint-Tabbouleh-12...
Ingredients:
1 cup boiling-hot water
3/4 cup fine bulgur
2 cups loosely packed fresh mint leaves
1/3 cup olive oil
1/2 ripe average-sized melon (honeydew or cantaloupe), rind discarded and fruit cut into 1/2-inch pieces
1 small red onion, diced
Juice of 1-2 limes
salt
Preparation:
Pour boiling water over bulgur in a bowl, then cover bowl tightly and let stand 30 minutes. Drain in a sieve if watery.
Meanwhile, puré mint with oil in a blender until smooth.
Toss bulgur with mint oil, melon, and onion. Add lime and salt to taste.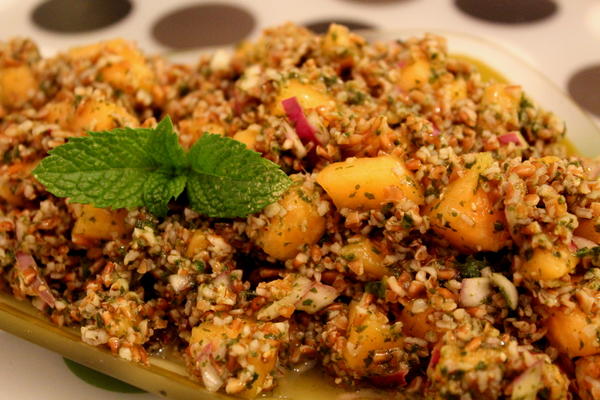 Season:

Cuisine:

Recipe: Course:

Recipe: Main Ingredient: