Paella with chicken and shrimp
5 tablespoons extra-virgin olive oil (preferably Spanish), divided
1 pound uncooked large shrimp, peeled, deveined, butterflied
1 pound skinless boneless chicken thighs, cut into 1-inch cubes
1/2 pound oyster mushrooms, sliced
1 cup chopped onion
4 garlic cloves, chopped
1 1/2 cups paella rice (short-grain white rice)
1 15-ounce can diced tomatoes in juice
1 dried California chile or New Mexico chile, stemmed, seeded, finely ground in spice mill
3/4 teaspoon smoked paprika
1/2 teaspoon saffron threads, crumbled
2 cups low-salt chicken broth, divided
1 cup mushroom broth
Chopped fresh Italian parsley
Heat 2 tablespoons oil in each of 2 large (12- to 14-inch) paella pans or skillets over medium-high heat. Sprinkle chicken with salt and pepper. Add chicken to pan; sauté until beginning to brown, about 5 minutes. Transfer chicken to separate large bowl.
Add 1 tablespoon oil and half of fresh mushrooms. Sprinkle with salt and pepper. Sauté until mushrooms are tender, 4 to 5 minutes. Using slotted spoon, transfer mushrooms to bowl with chicken. Add 1 tablespoon oil to each pan, then 1/2 cup onion and 2 garlic cloves; sauté 1 minute.
Add 1/2 tablespoon oil, then add rice. Stir 1 minute to coat. Add 1 1/4 cups mushroom broth, 1/2 can tomatoes with juice, 3/4 teaspoon ground chile, 3/8 teaspoon paprika, and 1/4 teaspoon saffron to each pan. Stir to blend; bring to simmer. Sprinkle rice mixture with salt and pepper.
Mix chicken and mushrooms and all juices into rice. Reduce heat to medium-low. Simmer 10 minutes (do not cover during cooking).
Drizzle 1/2 cup chicken broth over each. Simmer 8 minutes; drizzle another 1/2 cup broth. Simmer 8 minutes longer.
Arrange half of shrimp atop each paella. Cook until rice is tender, chicken is cooked through, shrimp are just opaque in center, and rice is brown and sticking to pan on bottom, 2 to 3 minutes longer. Sprinkle each paella with parsley.
See also http://www.bonappetit.com/recipe/paella-with-chicken-mushrooms-and-shrimp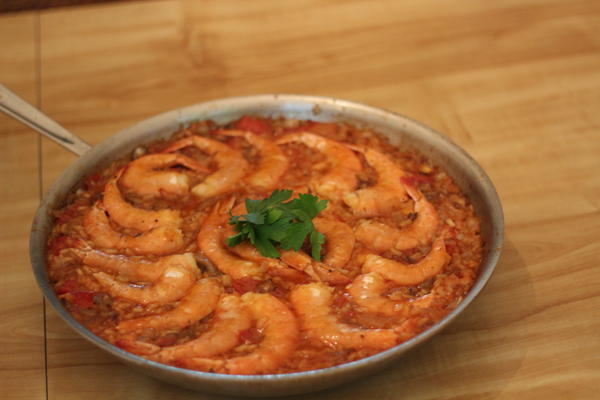 Season:

Cuisine:

Recipe: Course:

Recipe: Main Ingredient:

WikiTags: