Pancakes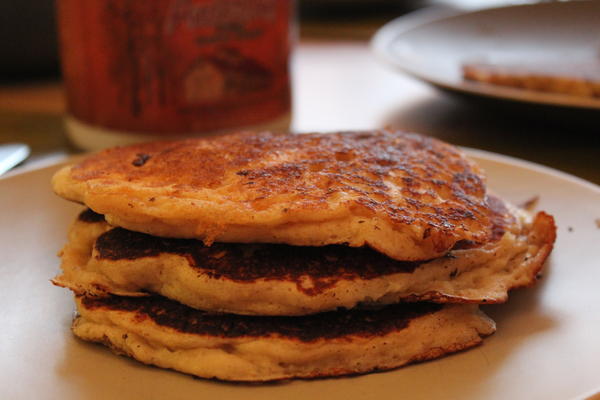 Perfect pancakes are like perfect rice - the secret shibboleths of the kitchen. Smitten Kitchen has a great read on making amazing pancakes, adapted here:
1 cup all-purpose flour
½ cup light wheat (we use Wade's Mill naturally white bread flour, the wheatier the flour, the more all-purpose you'll need)
1 teaspoons baking powder
1 teaspoon baking soda
¼ teaspoon kosher salt, or slightly less table salt
1 ½ tablespoons sugar
4 medium eggs, separated
1 ½ cups buttermilk, or mix in 2 T yogurt to plain milk
3 tablespoons unsalted butter, melted, plus 1 T for griddle
1 tsp lemon juice
Mix the dry ingredients, then add in the milk mixture, egg yolk, and buttter, lightly mixing (pancake batter is best lumpy).
Whip the egg white until stiff.
When the griddle is ready, fold in the lemon juice and egg whites until mixed in. Add fruit after it's on the griddle.
Smitten Kitchen has a lot more cooking tips and guidelines.
Cuisine:

Recipe: Course:

Recipe: Main Ingredient: