Party Pasta Salad
I was inspired by a few online recipes, but pretty much made this up as I went along. It turned out delicious and was a big hit!
1 lb pasta (orecchiette or some other smallish one preferred)
1 medium-sized jar of sun-dried tomatoes packed in oil, drained, chopped and olive oil reserved
1/2 small red onion, finely diced
1 small tomato, finely diced
~1/2 lb feta, crumbled.
~1/2 bunch parsley, leaves only, finely chopped
red wine or sherry vinegar
Boil pasta in salty water (about 1/4 cup) until al dente. Drain. Allow to cool.
Add a bit of reserved oil to pasta to prevent it from sticking.
Mix in all non-liquid ingredients.
Slowly add more reserved oil and a few splashes of vinegar to taste. For an entire pound of pasta, I used all of the oil from the jar and only a few splashes (maybe 2 Tbsp total) of vinegar.
Feel free to adjust the proportions of the "non-liquid" ingredients to taste as well!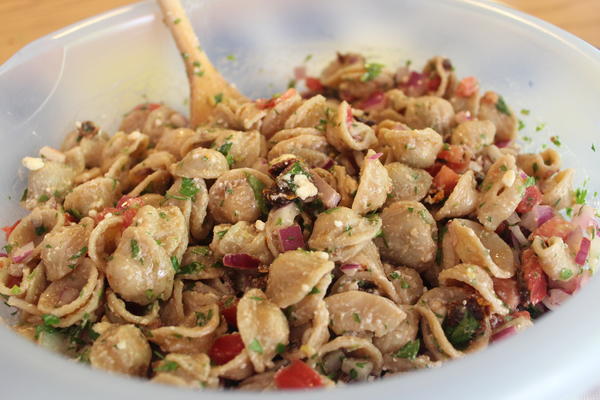 Season:

Cuisine:

Recipe: Course:

Recipe: Main Ingredient: