Pasta Primavera
What a delightful spring pasta recipe, courtesy of The New York Times.
¼ pound sugar snap peas, stems trimmed
½ pound asparagus, ends snapped
2 tablespoons unsalted butter
¾ cup fresh English peas
¼ cup thinly sliced spring onion, white part only (or use shallot)
2 garlic cloves, finely chopped
½ teaspoon fine sea salt, more as needed
Black pepper, more as needed
12 ounces fettuccine or tagliatelle, preferably fresh (see recipe)
⅔ cup grated Parmigiano-Reggiano, at room temperature
½ cup crème fraîche or whole milk Greek yogurt, at room temperature
3 tablespoons finely chopped parsley
Bring a large pot of heavily salted water to a boil over medium-high heat.
While the water is coming to a boil, slice snap peas and asparagus stems into 1/4-inch-thick pieces; leave asparagus tips whole.
Melt butter in a large skillet over medium-high heat. Add snap peas, asparagus, English peas and onion. Cook until vegetables are barely tender (but not mushy); 3 to 4 minutes. Stir in garlic and cook 1 minute more. Season with salt and pepper set aside.
Drop pasta into boiling water and cook until al dente (1 to 3 minutes for fresh pasta, more for dried pasta).
Drain well, reserving some pasta cooking liquid, and transfer pasta to a large bowl. Immediately toss pasta with vegetables, Parmigiano-Reggiano, crème fraîche and herbs. Add ¼ or so of pasta water and season generously with salt and pepper, if needed.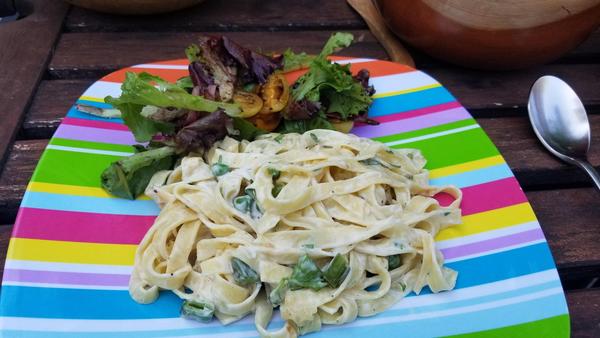 Season:

Cuisine:

Recipe: Course:

Recipe: Main Ingredient: