Pound Cake
This is Jon's Mom's Sour Cream Cake recipe
1 cup butter (softened)
3 c. sugar
Cream together until well blended.
Sift together in a large bowl:
3 c. flour
¼ t. baking soda
½ t. salt
6 eggs (may be separated, beat egg whites until almost stiff and fold in last) Or just add one whole egg at a time (this is what I do)
1 c. sour cream
1 t. vanilla
Add one egg at a time to butter/sugar and beat well after each.
Add 1 cup flour and beat in, then alternate with ½ of the sour cream, another cup of flour, the rest of the sour cream and the vanilla, mixing well after each addition. Then add the rest of the flour and beat well.
Pour into a greased and floured bundt pan and bake at 350° for 60 to 70 minutes (or more), test with a toothpick. Let sit in pan on a rack, for about 10 minutes before removing.
http://www.thekitchn.com/how-to-make-classic-sour-cream-pound-ca... has a good step-by-step.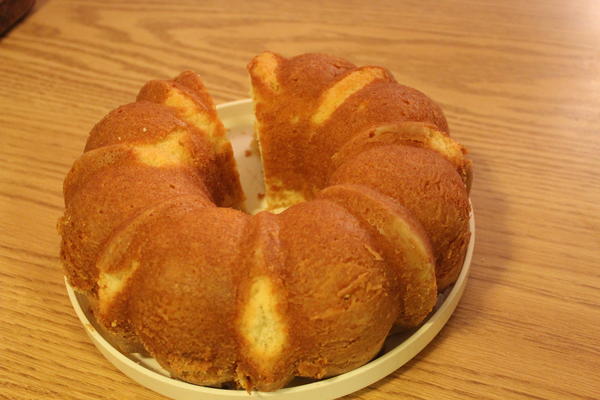 Cuisine:

Recipe: Course:

Recipe: Main Ingredient:

WikiTags: