Pumpkin Curry
2 lbs pumpkin
14oz (1 package) Firm tofu, optional
4 cups (2 cans) coconut milk (can use light milk, and/or sub in a cup of water)
3-5 tablespoons Vegetarian Red Curry Paste
8 kaffir lime leaves
2 chili peppers (fresh red thai, or 1 jalapeno)
2" fresh galangal (peeled and thinly sliced), or 2 T galangal powder (or ½ equivalent ginger)
1 tablespoon salt
3 sprigs Thai basil
We used a marina de chiogga pumpkin, but any firm, yellow-flesh, slightly sweet/nutty pumpkin will do.
Prep the pupmkin - cut it open, remove the seeds, cut it into segments, peel, and slice into 1" cubes
Pick basil leaves. Tear the kaffir lime leaves from the center stem. Julienne red chili pepper.
In a large, warm pot, add a dash of coconut or neutral oil, heat. Add the red curry paste and bloom for ~1 minute. Add in 2 cups of coconut milk, stir and simmer for 5-10 minutes, until aromatic.
Add the pumpkin and stir to coat pumpkin with curry sauce. Add the rest of coconut milk and water. Add half of the kaffir lime leaves. Season with salt; start at 1/2 tablespoon and taste. Each curry paste has different salt content so you really need to taste it. Simmer until the pumpkin is soft, about 15-20 minutes.
Add sliced red pepper and remaining kaffir lime leaves. Add Thai basil. Turn off the heat. Stir to submerge the basil in hot curry to keep the leaves bright green. The leaves will stay bright green for 10 minutes or so.
Adapted from http://www.thaitable.com/thai/recipe/vegetarian-pumpkin-curry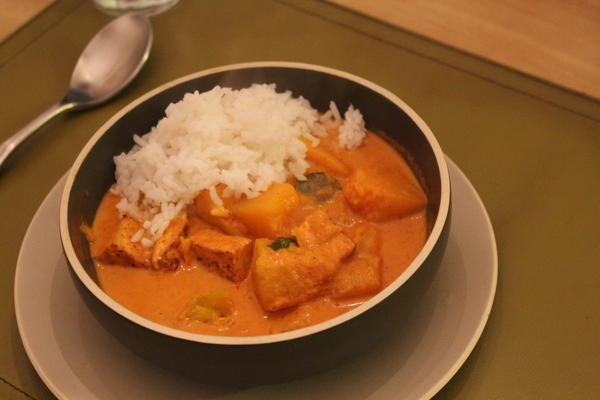 Season:

Cuisine:

Recipe: Course:

Recipe: Main Ingredient: