Shahi Paneer
A really yummy recipe - great on the first try. The original recipe was for chicken tikki masala, but we used paneer instead of chicken and the result was pretty similar to some of the best Shahi Paneer we had in India.
Modified from Food and Wine.
Ingredients
Salt and freshly ground pepper
8-10 oz paneer cheese
2 tablespoons plus 1 teaspoon vegetable oil
1/4 cup blanched whole almonds
1 large onion, finely chopped
2 garlic cloves, minced
1 teaspoon minced fresh ginger
1 1/2 tablespoons garam masala
1 teaspoon pure chile powder
1/4 teaspoon cayenne pepper
One 35-ounce can peeled tomatoes, finely chopped, juices reserved
Pinch of sugar
1 cup heavy cream (crème fraîche can substitute)
DIRECTIONS
In a small skillet, heat 1 teaspoon of the oil. Add the almonds and cook over moderate heat, stirring constantly, until golden, about 5 minutes. Transfer the almonds to a plate and let cool completely. In a spice grinder (or food processor), pulse the almonds until finely ground.
In a large sauce pan, heat 2 tablespoons of oil until shimmering. Add the onion, garlic and ginger and cook over moderate heat, stirring occasionally, until tender and golden, about 8 minutes. Add the garam masala, chile powder and cayenne and cook, stirring, for 1 minute.
Add the tomatoes with their juices and the sugar and season with salt and pepper. Cover partially and cook over moderate heat, stirring occasionally, until the sauce is slightly thickened, about 20 minutes.
While the sauce is thickening, dust the paneer cubes with the masala and chili powder. Sear in a small, hot, oiled fry pan.
Once the sauce has reached the desired thickness, add the cream and ground almonds and cook over low heat, stirring occasionally, until thickened, about 10 minutes longer.
Stir in the paneer; simmer gently for 10 minutes, stirring frequently, and serve.
SERVE WITH
Steamed basmati rice or warm naan.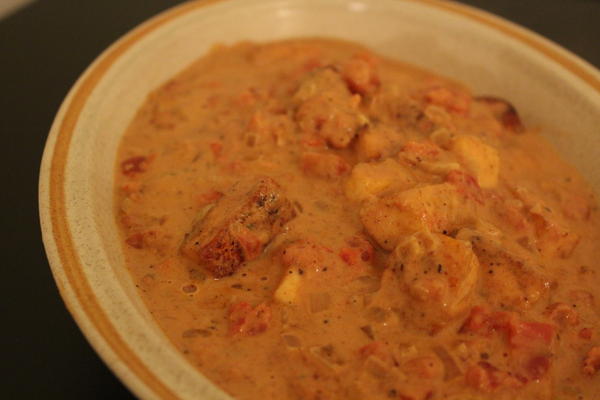 Season:

Cuisine:

Recipe: Course:

Recipe: Main Ingredient: