Tah Chin (Persian Rice Casserole)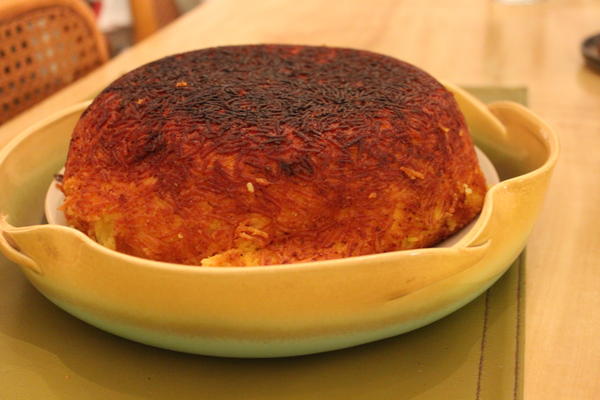 When I was in high school, I dated a Persian (Iranian) guy for a few months. I don't remember much about our relationship, but I do remember his mother's cooking! After we'd been dating for while, his family invited mine over for a Friday night dinner. All I remember is a chicken/rice/currant/nut casserole that was absolutely delicious. This recipe is my attempt to recreate the dish from my memory (and with the help of several websites). I must admit, its hard to get this dish right. Perhaps one day, I'll make a more perfect one that will take a prettier picture.
1 large or 2 small chicken breasts, boneless, skinless
2 medium onion
s, divided
2 cloves garlic
1.5 cups plain yogurt

1/2 tsp saffron, ground with a pinch of sugar and dissolved in 4 tablespoons of boiling water

2 egg yolks
2 cups basmati rice
6 tbsp butter or ghee
1/2 cup dried barberries (zereshk), cleaned, washed and drained

1 tablespoon sugar
1/4 cup slivered almonds, toasted briefly over dry heat

1/4 cup slivered pistachios, toasted briefly over dry heat
Salt and pepper
The Night Before
Prep the rice:

Rinse the basmati rice five or six times, or until water starts to run clear.
Soak in salty cold water for a few hours to overnight.

Prepare the chicken:

Cut 1 onion in large pieces and crush garlic cloves.  Place onion and garlic in a small saucepan.
Season chicken breast with salt and pepper and place on top of onion and garlic.
Add 1-2 cups of water to cover and cook over medium heat for 15-20 minutes or until chicken is cooked through.
Set aside to cool. When cool, tear into pieces.
In the meantime, mix yogurt, egg yolks, saffron water, and season heavily with salt and pepper.
Mix a few tablespoons of the marinade in with the cooled chicken breast pieces (enough to coat).
Cover marinating chicken and remaining marinade and refrigerate overnight.
The Day Of
Prepare the rice.
Drain and rinse the rice well to get rid of any remaining starch.
Bring ~4 cups of water and salt to a boil in a large pot.
Pour the rice into the pot.
Boil briskly for about 5 minutes, gently stirring twice to loosen any grains that may have stuck to the bottom.
The rice is ready when its no longer hard (but not soft enough that you'd want to eat a lot of it).
Drain.

Prepare the barberry-onion mixture:

Meanwhile, rinse the barberries well (if necessary). Put in a colander, inside a bowl of water, for 15 minutes. Any sand or other yuckies with the berries will fall to the bottom.
Give the barberries a quick look and make sure there aren't any stems, stones, or other things you wouldn't want to eat.
Slice and sauté the second onion in 1 tablespoon butter until translucent.
Add barberries and saute for just 1 minute over LOW heat because barberries burn very easily!
Add sugar, mix well, and set aside.
Prepare the casserole
Add par-cooked rice to the marinade and mix well.
Melt rest of butter or ghee.
Brush half of it on the bottom on the bottom and sides of a non-stick pot (not too deep and not too wide) or casserole dish.
Put approximately half of the rice/marinade mixture into the pan and flatten.
Layer the chicken pieces evenly on top.
Then put a thin layer of the barberry/onion mixture on top of the chicken (about half of the total barberry mixture).
Then put the remainder of the rice/marinade mixture on top, flattening.
Pour the rest of the melted butter/ghee on top.
If making in a pot, put on the stove over medium-high heat.
When you notice steam, lower the heat, cover, and cook for one hour or until crust forms.
You may wrap the lid in a dish towel to prevent steam from escaping.
If making in a casserole dish, cover the dish with tin foil.
Bake at 350°F for 2.5 hours, or until crust forms.
Remove the tin foil for the last ~30 minutes to allow the top to brown as well.
Prepare to eat:

Remove the tah chin from the stove/oven and set the pot or dish on top of a cold, damp towel for 2-3 minutes. (This makes it easier to remove.)
Invert a serving platter over the top of the pot, then carefully flip it over to drop the tah chin onto the platter.
Garnish with nuts and the remaining barberry/onion mixture.
Cut into pie-shaped pieces and serve hot.
Cuisine:

Recipe: Course:

Recipe: Main Ingredient: