Thai Green Curry
I had a hankering for Thai food since we're currently planning a trip to Thailand. I did a quick search, and voila! I modified the curry recipe from here. I have to admit this isn't the most authentic or even delicious green curry recipe, but frankly it's pretty easy to make and can be made mostly without often hard to find ingredients.
I personally prefer this recipe with extra firm tofu, but it could theoretically go with any protein. Fish or seafood would be best, followed by chicken.
Serves 4.
Ingredients:
1/2 small onion, roughly chopped
1 shallot, roughly chopped
2" fresh cilantro stems (from your average-sized bunch), roughly chopped
Bottom third of a lemongrass stalk, roughly chopped
2 1" pieces fresh turmeric, roughly chopped (or 1/2 tbsp dry ground)
1 1" piece fresh galangal or ginger, peeled and roughly chopped
4 large garlic cloves, halved
3+ jalapeno or serrano peppers (depending on heat level), seeded and roughly chopped
3/4 teaspoon dried crushed red pepper
1 tsp ground cumin
Vegetable oil
~1 pound protein (such as extra firm tofu, white fish (such as halibut), mixed seafood, or pounded chicken breast), cut into 1-inch pieces
1 can unsweetened coconut milk
Salt or fish sauce to taste
Minced fresh cilantro
Making the paste
Blend first 10 ingredients in food processor until they become a dry paste, stopping frequently to scrape down sides of work bowl. Add a touch of water to help ingredients blend.
Paste can be prepared 3 days ahead or frozen until you're ready to use it.
Cover and chill.
Preparing the meal
If using tofu, heat oil in a deep non-stick pan.
Fry on both sides until crisp on the outside.
(A splatter guard will be handy.)
Heat oil in a saucier pan over medium-high heat.
Add 1/2 cup curry paste; stir 1 minute.
If using non-tofu protein, add now and cook 5-6 minutes, turning occasionally with tongs.
Transfer protein to a plate.
Add coconut milk and boil liquid until reduced to thick sauce, about 10 minutes.
Season with salt or fish sauce, to taste.
Return protein to sauce and heat through.
Sprinkle with cilantro.
Serve over rice.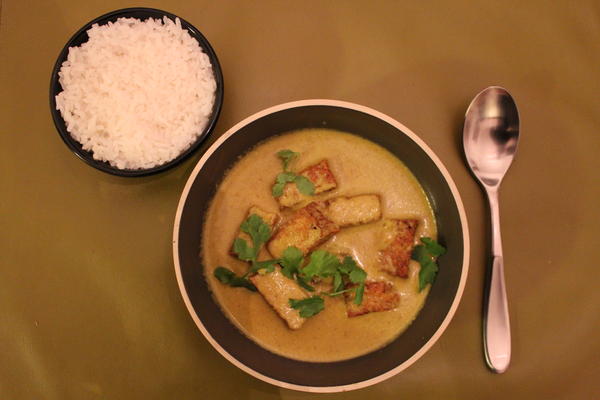 Season:

Cuisine:

Recipe: Course:

Recipe: Main Ingredient: