Upside-Down Nectarine Cake
A recipe I've been wanting to make for a long time, with some tips from Martha.
3/4 cup (1 1/2 sticks) unsalted butter, at room temperature, DIVIDED
3/4 cup packed light or dark brown sugar
4 cups nectarines cut into very thin slices or pieces (about 4 medium)
1 1/2 cups all-purpose flour
2 teaspoons baking powder
a little over 1/2 teaspoon kosher salt
3/4 cup granulated sugar
3 large eggs
1/2 cup buttermilk or Greek yogurt
2 teaspoons pure vanilla extract
Position a rack in the center of the oven and preheat to 350˚F. Butter the sides of your pan (either a 9 x 3 inch cake pan or a 9" Springform pan).
In a small saucepan, melt 6 tablespoons of your butter over medium-low heat. Stir in the brown sugar and cook, stirring, until the sugar has melted and the mixture is smooth but not candied, about 4 minutes. Transfer to pan, spreading the mixture evenly across the bottom. If using a Springform pan, be sure to put on a lined baking sheet.
Arrange the nectarine slides over top of the butter/sugar mixture in an overlapping spiral pattern. When you've covered the bottom, build another layer of fruit on top, filling in the blank spaces left by the first layer. Set aside.
In a medium bowl, whisk together the flour, baking powder, and salt and set aside.
In a stand mixer fitted with the paddle attachment, beat 6 tablespoons butter on high until light and fluffy. Add granulated sugar and beat until well combined. Beat in eggs, one at a time, scraping down bowl as needed. Beat in vanilla. With mixer on low, add flour mixture in three additions, alternating with two additions buttermilk/yogurt, and beat to combine.
Pour the batter slowly over the fruit layers, spreading it out as you go. Carefully and gently smooth the top to even out the batter over the nectarines, being careful not to move them around.
Bake until wooden skewer comes out clean, about 45-50 minutes, checking at the 40-minute mark for doneness. It should be a golden color.
No matter what pan you chose to use, cool the cake on a rack for 30 minutes in the pan. If you used a regular cake pan, run a small knife around the edge of the pan and turn out the cake onto a large plate or cake stand. If you used a Springform, release the side lever of the cake pan, remove the ring, and flip over onto a cake plate or cake stand.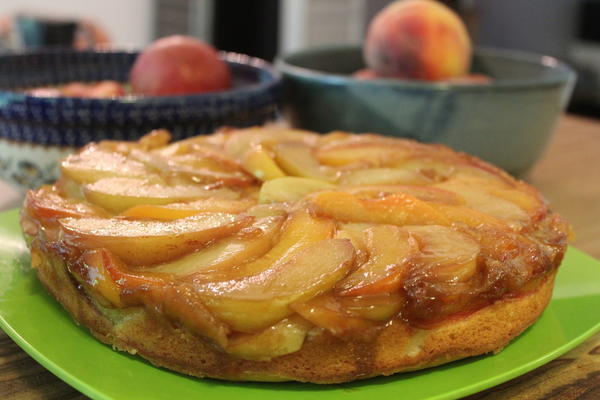 Season:

Cuisine:

Recipe: Course:

Recipe: Main Ingredient: