Wheat Berry, Fennel, and Pomegranate Salad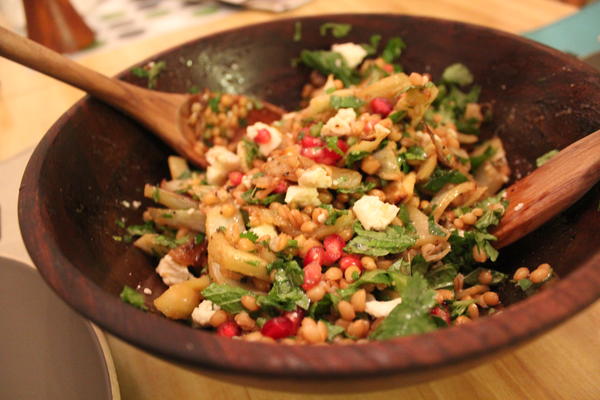 I modified a Bon Appetit recipe, and it was delicious. The original recipe called for quinoa, but only having wheat berries in the pantry, I substituted. And frankly, I think the wheat berries were better because they provided more texture and toothsome-ness that quinoa would have. The only other change I made was dropping the dill. I don't particularly like it, and even though Jon does, I made it when he wasn't home!
Serves 2 as a main course or 4 as a side
1/4 cup plus 1 tablespoon olive oil
2 medium fennel bulbs (2 1/2 pounds)
Kosher salt and freshly ground black pepper
2 tablespoons fresh lemon juice
1 1/2 teaspoons ground cumin
1 teaspoon sugar
1/2 cup wheat berries
1 lemon
1 serrano or jalapeno chile, seeded, chopped
1/2 cup chopped fresh cilantro
1/2 cup chopped fresh mint
1 teaspoon chopped fresh dill (optional)
1/4 cup pomegranate seeds (from 1/2 small pomegranate)
Feta or queso fresco
The night before - cook the wheat berries.
Core the fennel and cut lengthwise into 1/4"-thick slivers (using a mandolin, if you have one).
Heat 1/4 cup oil in a large skillet over medium heat. Add fennel; season with salt and pepper. Cook, stirring occasionally, until fennel is tender and golden, 10–12 minutes. Stir in lemon juice, cumin, and sugar; cook for 1 minute. Let cool slightly.
Toss together fennel mixture, chile, herbs, and wheat berries. Add olive oil and juice of one lemon. [Optionally, using a small sharp knife, cut all peel and white pith from lemon. Cut between membranes to release segments; discard membranes and roughly chop. Add lemon with any juices to mixture.] Toss gently to incorporate. Season with salt and pepper to taste. Consider adding the juice of another half lemon, if not yet lemony enough. Transfer salad to a platter; sprinkle with pomegranate seeds and cheese and serve.
Absolutely delicious.
Season:

Cuisine:

Recipe: Course:

Recipe: Main Ingredient: