Basmati and Wild Rice with Chickpeas, Currants and Herbs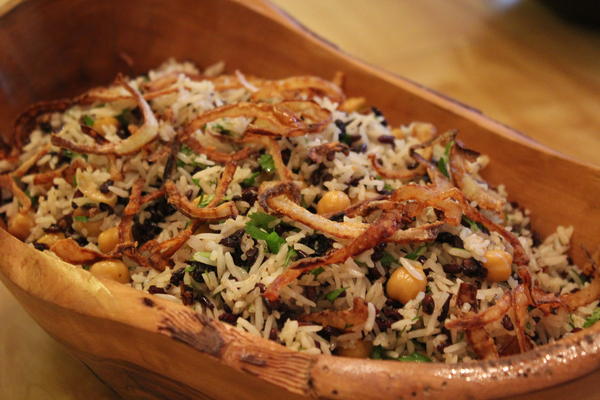 This Yotam Ottolenghi recipe was amazing. The balance of the sweet currants with the curry-spiced chickpeas was surprising and delightful and the fried onions sealed the deal. Yes, it's got a lot of components, but it is totally worth it. I have halved the proportions to serve 8 as a side or 4 as a main.
1/4 cup wild rice (can substitute black rice, but it's not the same thing)
1.25 cups basmati rice, rinsed 5 times and soaked in salty water for at least 2 hours (preferably longer)
2 tsp cumin seeds
2 tsp curry powder
1 can chickpeas, drained
1/3 cup currants (substitute raisins)
1/4 cup chopped parsley
1/4 cup chopped cilantro
1/4 cup chopped dill
1 cup fried onions (like the kind you buy in a can around the holidays -- or, see below for how you can make your own)
Olive oil
Salt and pepper
DO AHEAD
Put the wild rice in a small saucepan; cover with plenty of water; bring to a boil and simmer until cooked but still quite firm (20-40 minutes, depending on which rice you use).
Drain and set aside.
To cook the basmati rice, pour a tablespoon of olive oil into a medium saucepan and place on high heat.
Drain the rice and add it to the saucepan with a quarter-teaspoon of salt; stir as it warms up.
Add 1 cup of boiling water, reduce heat to simmer, cover with a tight lid, and cook for 15 minutes.
Remove from the heat, lift off the lid, cover the pot with a tea towel, then put the lid on top and leave to rest for 10 minutes.
Meanwhile, prepare the chickpeas.
Heat another tablespoon of olive oil in a small saucepan.
Add the cumin and curry powder, and after a couple of seconds add the chickpeas and a quarter-teaspoon of salt; act fast, or the spices may burn.
Stir for a minute or two, just to heat the chickpeas; then transfer to a large mixing bowl.
DAY OF
Mix rice, chickpeas, and currants and warm in the oven.
When mixture reaches desired temperature, mix in herbs and half of fried onions
Put into serving dish and top with rest of onions.
(Optional) To make your own fried onion topping:
1/2 large onion, peeled and thinly sliced
~1/4 cup AP flour
High smoke point oil, like sunflower or canola
Wipe the pan clean, add the high-smoke point oil and place over high heat.
While the oil is heating, mix the onion and flour with your hands; start with just a tablespoon of flour and keep adding until onions are coated.
When the oil is really hot, take some of the onion mix and carefully place in the oil.
Fry for two or three minutes, until golden-brown, transfer to kitchen paper and sprinkle with salt.
Repeat in batches until all the onion is fried.
Season:

Cuisine:

Recipe: Course:

Recipe: Main Ingredient:

WikiTags: