Beef Satay
Courtesy of Cook's Illustrated. Easy and delicious!
Beef
2 Tbsp vegetable oil
2 Tbsp packed dark brown sugar
1 Tbsp fish sauce
1 (1.5-1.75 lb) hangar or flank steak, cut against the grain into pieces that are approximately 4"x2"x1/4"
Basting Sauce
3/4 cup coconut milk
3 Tbsp packed dark brown sugar
3 Tbsp fish sauce
2 Tbsp vegetable oil
3 shallots, minced
2 stalks lemongrass, trimmed to bottom 6 inches and minced
2 Tbsp grated fresh ginger
1.5 tsp ground coriander
3/4 tsp red pepper flakes (or 3 fresh thai chilis)
1/2 tsp ground cumin
1/2 tsp salt
Process
Whisk beef marinade ingredients together (oil, sugar, and fish sauce).
Toss beef with marinade and let stand at room temperature for 30 minutes.
Weave beef onto 12" metal skewers, 2 or 3 pieces to a skewer.
Meanwhile, prep basting sauce ingredients and whisk together in a small bowl.
Prepare a hot grill with the coals close to the grates.
Cook skewers for approximately 4 minutes per side.
Serve with a peanut sauce.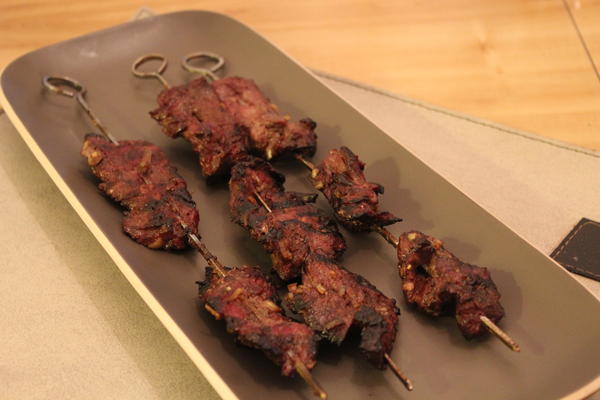 Season:

Cuisine:

Recipe: Course:

Recipe: Main Ingredient:

WikiTags: