Beet, Rhubarb and Citrus Salad
Serves 2
Pickled beets (or 1 large beet, roasted or boiled until tender, peeled, and cut into wedges)
1 large orange
Watercress or arugula (approx 2-3 cups)
1/2 cup coarsely crumbled feta cheese
1/2 lb rhubarb (about 3 stalks), trimmed and cut into 1/2" slices
1/4 cup sugar
2 tablespoons extra-virgin olive oil
2 tablespoons unseasoned rice vinegar
1 tablespoon fresh lemon juice
1 tablespoon minced shallot
1 teaspoon sugar
Prepare rhubarb (can be made ahead):
Bring 1.5 cups water, 1/4 cup sugar, and pinch of coarse salt to simmer in large saucepan, stirring until sugar dissolves.
Add rhubarb.
Simmer over medium heat until just tender but still intact, 1 to 2 minutes (do not overcook or rhubarb will be mushy).
Drain and cool completely.
Assemble salad:
First, zest orange to yield 1/2 tsp zest. (Zest will be used in salad dressing.)
Cut off peel and white pith from orange.
Working over medium bowl to catch juice and using small sharp knife, cut between membranes to release orange segments into bowl; squeeze membranes to release juice into bowl. (Juice will also be used in salad dressing.)
In salad bowl, add greens, beets, rhubarb, orange segments, and feta.
Make the dressing:
Mix together orange zest, orange juice, olive oil, rice vinegar, lemon juice, shallot, and sugar.
Season dressing with coarse salt and pepper.
Adjust proportions to taste.
Modified from Bon Appetit: http://www.bonappetit.com/recipes/2010/04/beet_rhubarb_and_orang...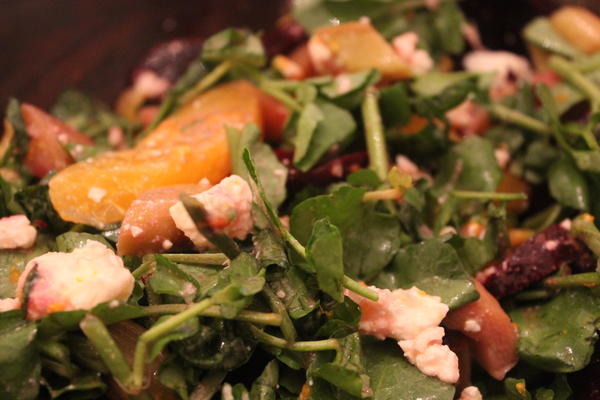 Season:

Cuisine:

Recipe: Course:

Recipe: Main Ingredient: