Berber Eggs
Bon Appetit called this recipe Tunisian-style eggs, but we instantly recognized it as a close cousin to the Berber Eggs we had for breakfast in Morocco. We tweaked the recipe slightly, and it was delicious!
Serves 2
1 tablespoon olive oil
1/2 medium red onion, chopped
2 garlic cloves, finely chopped
2 red bell peppers, cored, chopped or thinly sliced into strips
1/2 large tomato, finely diced
3+ tablespoon harissa paste and/or dried spice mix
2-4 large eggs (depending on how much protein you want)
Heat oil in a large skillet over medium heat.
Add onion and cook, stirring often, until softened, about 5 minutes.
Add garlic; stir until fragrant, about 1 minute.
Add peppers and 1 tsp. kosher salt and cook, stirring often, until peppers are wilted, 5—8 minutes.
Add tomato, 2 Tbsp. harissa, and 1/2 cup water.
Reduce heat to medium-low and cook, stirring often and adding more water if too dry, until peppers are soft, 15—20 minutes.
Season with kosher salt and another Tbsp harissa. Keep warm.
Meanwhile, fry eggs in olive oil to desired doneness (runny is best!).
Divid pepper sauce among two bowls and top each with two eggs.
Season egg with flaky sea salt.
Enjoy with a Moroccan bread if you can find it (beghir is a particularly awesome one) but pita will do just fine as well.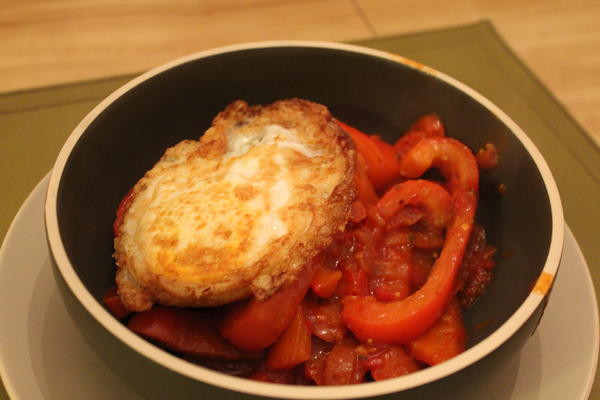 Season:

Cuisine:

Recipe: Course:

Recipe: Main Ingredient: