Bernice's Brisket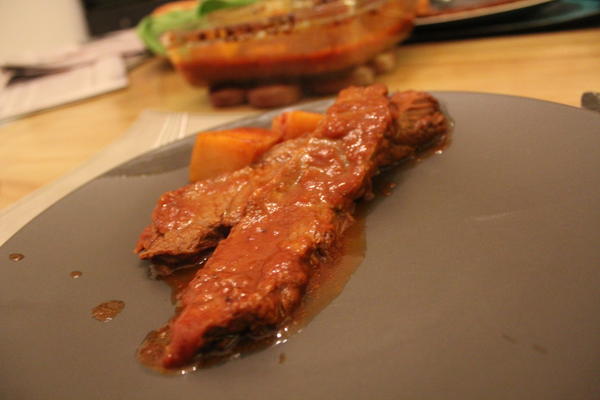 This is Audrey's family's brisket recipe. Sort of like a potroast, but made on the stovetop. It has a sweet and savory sauce. It's really easy to freeze leftovers and reheat - almost better that way!
1 big brisket (4 lbs)
3-4 cloves garlic - chopped or minced
1 medium onion - half-moon sliced
Cut off excess meat fat.
Season meat to taste (salt + pepper).
Brown meat in pan with garlic and onion.
Mix following together to create sauce:
1/2 c brown sugar
1/2 c vinegar
3 small cans tomato sauce
1 can tomato paste
1 c water
Lemon juice of 1 lemon
Generous dash of worcestershire sauce
Pineapple juice from small can of pineapple (a must!)
Pour sauce over meat.
Bring to boil.
Reduce heat and simmer approx 3-4 hours, or until very soft to the touch.
If desired, add quartered small potatoes to pan about halfway through cooking.
Serve hot!
Slice leftovers and put in glass pyrex with leftover sauce.
Reheat in oven and serve hot.
Season:

Cuisine:

Recipe: Course:

Recipe: Main Ingredient:

WikiTags: