Burnt Eggplant with Pomegranate Dip
Ingredients:
2 large eggplants
3 gloves garlic, minced
Grated zest of 1 large lemon
Juice of 1 lemon
4 Tbsp olive oil
To finish:
2 tablespoons parsley
2 tablespoons mint leaves, chopped
Seeds of 1/2 pomegranate
Salt and Pepper to taste
Optional: top with smoked salt.
Char eggplants on a stove top (~20 minutes), grill or on a broil mode in the oven (~45 minutes, turning twice). Turn around so it is very charred all around. If broiling, piece the skin in multiple places.
Let eggplant cool once charred all around. remove flesh from the charred peel and separate into strands, let strain in a fine mesh strainer for up to an hour.
Add the garlic, oil, lemon juice and zest, and let marinate for 4 hours. When ready to serve, mix in the fresh herbs, additional oil, salt and pepper to taste, and top with pomegranate seeds.
The proportions in this recipe are different from the book as well as the directions.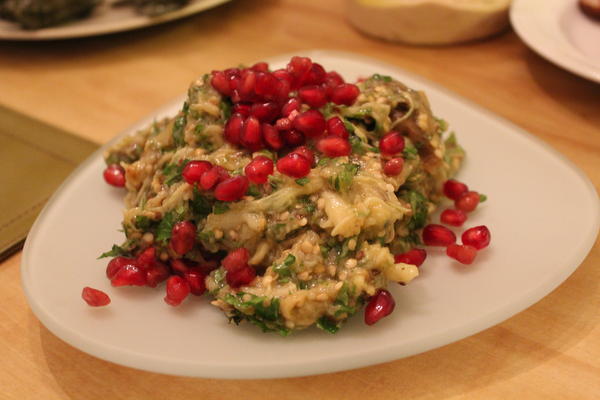 Season:

Cuisine:

Recipe: Course:

Recipe: Main Ingredient: