Chana Chaat
Indigo, the Indian food stall at Eastern Market, makes a spectacular chana chaat - basically, a chick-pea/vegetable salad/snack thing. It's quite frankly delicious. In anticipation of an Indian dinner party were we hosting, I coaxed the main ingredients out of the very nice woman who does all the cooking at the stall. While she wouldn't reveal her secret spice blend, some internet reserach gave us enough clues to fill in the holes.
Obviously, this is a very notional recipe and the proportions can be added to suit your taste. The resulting product shouldn't be soupy, but dressed in the sauce blend as a salad would be.
1 cup Chickpeas, cooked
1/2 cup Cucumber, diced
1/2 cup Red onion, diced
1/2 cup Cilantro, chopped
1/2 cup Tomato, diced
1 Jalapeno, seeded and chopped (optional)
2 Tbsp Cilantro chutney
4 tbsp Tamarind sauce
2 Tbsp Mango chutney (we used a storebought "West Indian Mango Chutney," but presumably an Indian one would have been better)
2 tsp Chaat Masala spice blend (we used our "Raita" spice blend, purchased in India)
Salt, to taste
Toss ingredients together. Adjust chutneys and spices, salt to taste. Voila!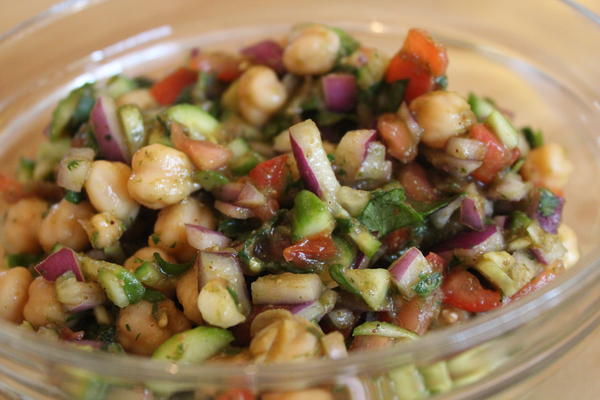 Season:

Cuisine:

Recipe: Course:

Recipe: Main Ingredient:

WikiTags: