Crab Cakes
Adapted from The Santa Monica Farmers Market Cookbook.
Makes 10 large crabcakes or as many small ones as you can roll
1 lb lump crabmeat
1/3 cup panko breadcrumbs (can sub regular)
2 eggs, beaten
4 Tbsp mayonnaise
2 Tbsp lemon juice
Few drops hot sauce (like Tobasco)
Generous dash of Old Bay seasoning
Generous dash of Garlic Powder
Generous dash of Onion powder
Salt and pepper to taste
Regular breadcrumbs (at least 1/2 cup)
1 Tbsp butter
1 Tbsp cooking oil
Mix crab and next 9 ingredients (through S&P). Feel free to adjust seasonings (including lemon juice) to taste. The mixture will be wet and loose.
Grab a handful and shape into a patty that is (for large crabcakes) about 2.5" in diameter and about 3/4" thick. It's okay if the patty doesn't hold together particularly well at this point.
Spread some regular breadcrumbs onto a plate. Place the patty onto the plate and coat it well, gently turning around and over. The patty should become more stable as it is covered in breadcrumbs.
Place breaded crabcakes on a clean plate or in a clean tupperware. Cover and chill for at least 30 minutes before cooking. (We kept ours in the fridge for a few days... we weren't particularly worried about the raw egg... but we're adventurous like that.)
When ready to eat, heat oil and butter over medium heat until the butter starts to color and sizzles when a drop of water is added. Add the crab cakes and saute until the undersides are golden brown, 3 to 5 minutes. Flip the cakes and saute until cooked through and lightly springy to the touch, 3 to 5 minutes. Resist the temptation to press on the cakes with the spatula!
Serve with lemon wedges and enjoy!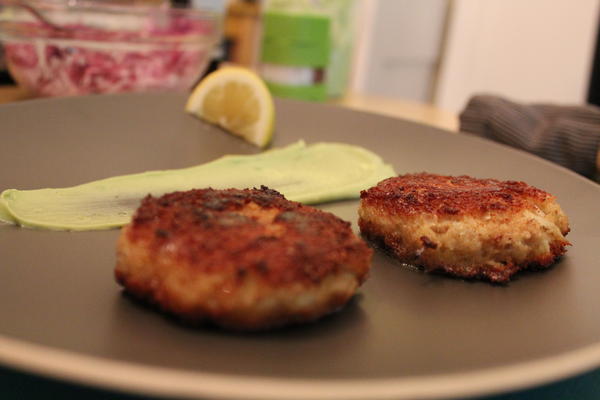 Season:

Cuisine:

Recipe: Course:

Recipe: Main Ingredient: