Crispy Chicken Thighs with Harissa
Via https://www.bonappetit.com/recipe/one-skillet-crispy-chicken-thi... , with some modifications:
4 small bone-in, skin-on chicken thighs (about 2 pounds total)
Kosher salt
Very small potatoes (or sunchokes?), cut down to 1" diameter pieces (about 6 fingerling potatoes)
2 tablespoons harissa paste
2 tablespoons extra-virgin olive oil, divided
2 medium leeks (white and light green parts), cleaned, thinly sliced
5 garlic cloves, crushed
1 fennel bulb, very thinly sliced, preferably with a mandoline, divided, fronds reserved for serving
3 tablespoons fresh lemon juice, divided
Preheat to 425°.
Season chicken with salt and place, skin side down, in a cold medium cast-iron. Arrange potatoes around chicken. Heat skillet over medium and cook, without moving chicken but turning potatoes occasionally, until chicken skin is browned, crisp, and releases with just a bit of coaxing from a spatula, 15-30 minutes.
Transfer chicken skin side up and potatoes to a plate, leaving as much fat in skillet as possible. Let skillet cool slightly, then add harissa. Return skillet to medium heat and cook harissa, stirring occasionally, until fragrant and sizzling, about 30 seconds. Pour off harissa schmaltz into a small bowl; set aside.
Heat 1 Tbsp. oil in same skillet over medium. Add leeks, garlic, and ½ of sliced fennel and cook, covered but stirring occasionally, until just softened, ~5 minutes.
Return chicken, skin side up, and potatoes to skillet. Transfer to oven and roast until chicken is cooked through and juices run clear when pierced with the tip of a paring knife, 10–12 minutes.
Meanwhile, toss 1 Tbsp. lemon juice and remaining sliced fennel and 1 Tbsp. oil in a small bowl; season with salt. Add remaining 2 Tbsp. lemon juice to reserved harissa schmaltz and stir to combine; season with salt.
Transfer chicken and potatoes to a platter.
Top with fennel salad, then fennel fronds. Drizzle with harissa dressing.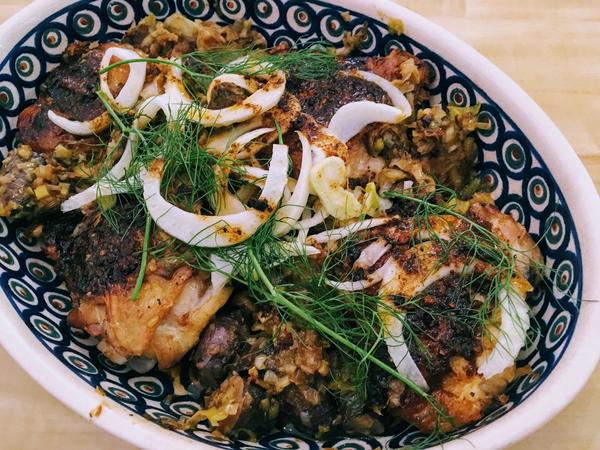 Season:

Cuisine:

Recipe: Course:

Recipe: Main Ingredient: