Crispy Hoi An Pancakes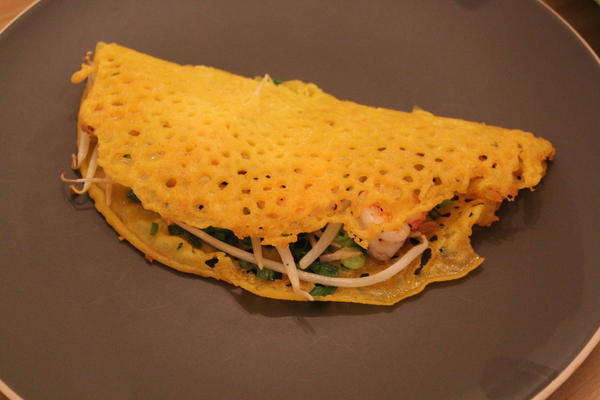 Batter
1 cup rice flour
½ teaspoon ground turmeric
½ teaspoon kosher salt
Assembly
5 tablespoons (or more) vegetable oil, divided
4 oz. small shrimp, peeled, deveined
Kosher salt and freshly ground black pepper
6 scallions, thinly sliced
4 oz. mung bean sprouts (about 1 cup)
Large green-leaf or Bibb lettuce leaves and mixed tender herbs (such as mint, cilantro, and Thai basil; for serving)
Nuoc Cham (recipe below)
Whisk flour, turmeric, salt, and 1½ cups water in a large bowl until smooth. Cover and let sit at room temperature 1 hour (this allows the rice flour to hydrate; the batter will get creamier as it sits).
Heat 1 Tbsp. oil in a medium nonstick skillet over medium-high heat. Add shrimp, season with salt and pepper, and cook, tossing often, until cooked through, about 3 minutes. Transfer to a plate.
Wipe out skillet and return to medium-high heat. Add remaining 4 Tbsp. oil. Mix batter to reincorporate rice flour, pour ½-cupful into skillet, and swirl pan to evenly spread out batter. (Be careful: Batter will splatter.) Cook pancake, shaking pan occasionally, until almost cooked and edges begin to curl, about 4 minutes. Top with one-fourth of scallions, one-fourth of bean sprouts, and one-fourth of shrimp and cook until pancake is golden brown and crisp, about 1 minute. Using a spatula, fold pancake in half, forming a half-moon.
Transfer to paper towels to drain. Repeat with remaining batter (mixing before adding to pan), scallions, bean sprouts, and shrimp to make 3 more pancakes, adding more oil to skillet as needed.
Cut pancakes into wedges.
To eat, tuck each wedge inside a lettuce leaf along with some herbs and dip in Nuoc Cham.
Nuoc Cham
1 (or more) Thai chile, with seeds, thinly sliced
2 cloves garlic, finely chopped
2 teaspoons grated peeled ginger
2½ teaspoons sugar
⅓ cup fresh lime juice
¼ cup fish sauce (such as nam pla or nuoc nam)
Combine chile, garlic, ginger, sugar, lime juice, and fish sauce in a small bowl. Season with more chile and sugar, if desired, or add water by the tablespoon if needed to soften flavors.
Original version via http://www.bonappetit.com/recipe/crisp-hoi-an-pancakes
Season:

Cuisine:

Recipe: Course:

Recipe: Main Ingredient: