Elaine's Lemon Meringue Pie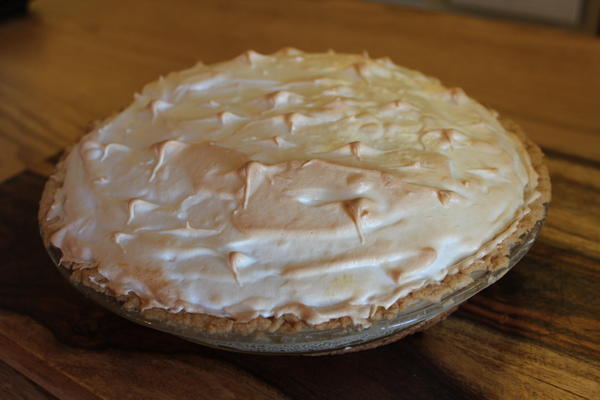 My grandmother makes the best lemon meringue pie. She swears by the My-T-Fine brand of lemon pie filing mix, though I've decided that Jell-O brand is an acceptable substitute. Her secret is the lemon juice.
To make this into a pie, we use a one of Jon's pie crusts, pre-baked. However, you could just as easily fill bowls, ramekins, etc. and have as a tasty pudding treat.
Filling Ingredients
1 box lemon pie filling
1/4 cup sugar
2 egg yolks
1/4 cup lemon juice
2 cups water, divided
Meringue Ingredients
2 egg whites
1/4 cup sugar
1/4 tsp cream of tartar
Preparation
Mix pudding mix and 1/4 cup sugar. Then add 2 egg yolks and 1/4 cup water. Mix until well-blended.
Then stir in lemon juice and remainder of water.
Bring mixture to a full boil over medium heat, stirring constantly.
Take off heat and cool 5 minutes, stirring twice.
Pour filling into cooled, pre-baked pie crust.
Make meringue by beating 2 egg whites with cream of tarter in a large bowl with a mixer on high speed until foamy.
Gradually beat in 1/4 cup of sugar until stiff peaks form.
Spread meringues over hot filling, sealing to inner edge of crust.
Bake pie 10-15 mintes at 350 degrees, or until meringue is lightly browned.
Cool at room temperature for 4 hours, and refrigerate before serving.
For a fun twist, put fresh blackberries or blueberries into the pie crust and pour pie filling on top!
Season:

Cuisine:

Recipe: Course:

Recipe: Main Ingredient:

WikiTags: