Falafelesque Fritters
I found this recipe on the internet. It was easy to make and pretty tasty. Also, I would imagine you can use almost any green, making this a relatively healthy year-round dish.
4 cups stemmed and torn collard greens or swiss chard (about 1/4 lb or 1 bunch)
1 15.5 ounce can chickpeas, rinsed and drained (or about 2/3 cup dry beans, soaked and cooked)
3 medium to large cloves garlic, chopped
2 Tbsp tahini
Juice of half a lemon
1/4 tsp cumin
1/4 salt
1/4 black pepper
3-4 Tbsp AP flour (can substitute your favorite gluten-free flour for a gluten-free dish)
Olive oil for cooking
Add greens, chickpeas, garlic, tahini, lemon juice, cumin, salt, and pepper to a food processor and pulse to combine.
When mixture is still a bit chunky but mostly smooth, transfer to a mixing bowl.
Stir in flour 1 Tbsp at a time until the mixture is thick enough to handle.
At this point, the mixture can be kept in a tupperware in the fridge for 1-2 days.
When ready to eat, form into patties that are about 2" in diameter and 1/2" thick.
Heat a large skillet over medium to medium heat and add 2 Tbsp oil.
Add 4 falafel (or however many will fit very comfortably) to the pan at a time.
Cook until golden brown on outside, flipping once, about 4 minutes per side.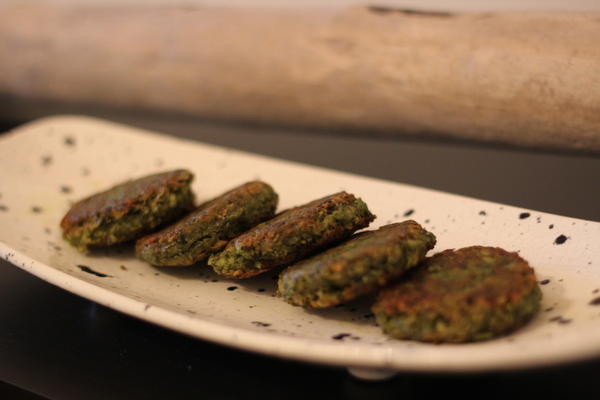 Season:

Cuisine:

Recipe: Course:

Recipe: Main Ingredient: