Fatteh Bel Djaje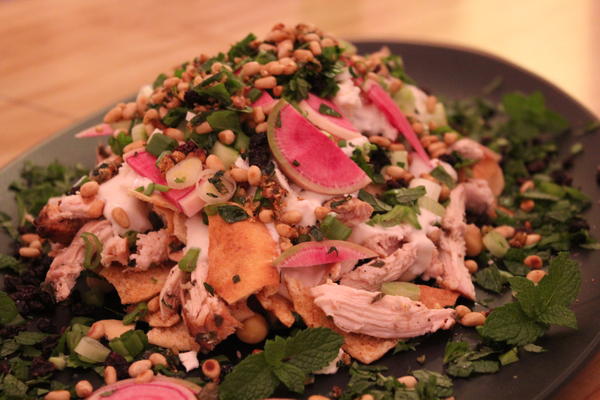 This original recipe (attached) came from a cooking class we took at Lebanese Taverna for a friend's birthday. We finally made this at home, and frankly, the original recipe was way too complicated. I post here a simplified, notional recipe that I may refine in the future.
The basic thing you're making is a layering of chickpeas, chicken, pita chips, yogurt, and garnishes - "Lebanese nachos," if you will. To make this an easy weeknight meal, you're ideally using leftover chickpeas and chicken, buying pre-made pita chips, and doing only minimal preparation on the day of. It does require some pre-planning but makes the final "cooking" really easy. Yes, it's tastier if all of these things are freshly made and still warm, but whatever. I'm a working woman.
2 cooked chicken breasts, shredded (such as leftovers from a prior dish or from a store-bought rotissery chicken)
2 cups chickpeas, cooked (can be from a can, but 1/2 cup pre-soaked and boiled dry beans will be better)
2 cups crushed pita chips
1 cup yogurt
2 Tbsp tahini
8 cloves garlic, minced, divided
1/4 cup mint, chopped, divided
2 Tbsp parsley, chopped
1/4 cup pomegranate seeds
Step 1: Make a yogurt sauce (can/should be done night before to let flavors meld)
Mince 4 cloves of garlic.
Mix with 1 cup yogurt.
Add 2 Tbsp tahini.
Salt to taste.
Step 2: Make garnishes
Toast 1/4 Tbsp pine nuts in a dry skillet.
In the same skillet, lightly sauté 4 cloves minced garlic with 2 Tbsp chopped mint.
Remove garlic/mint from heat. Mix with toasted pine nuts.
Step 3: Make your nachos
Use a large dish or bowl and layer as follows:
- Chickpeas
- Chicken
- Pita chips
- Yogurt Sauce
- Garnishes (Pine nut/garlic/mint mixture, remainder of fresh mint, parsley, and pomegranate seeds)
Enjoy!
Season:

Cuisine:

Recipe: Course:

Recipe: Main Ingredient: