Fennel Citrus Salad
1 Grapefruit
1 Lemon
(other citrus as desired)
1 bulb fennel, thinly sliced, and some fronds
1 cup dried chickpeas, rehydrated and cooked
greens (optional)
5 oz feta, crumbled (optional)
Cut peel and pith from citrus; cut between membranes to release segments. Squeeze juice from membranes into a medium bowl; whisk in 2 tablespoons olive oil. Season with kosher salt and freshly ground black pepper.
Toss in citrus, chickpeas, fennel, greens and feta, and a handful of fennel fronds.
Via http://www.bonappetit.com/recipes/2013/03/chickpea-fennel-and-ci...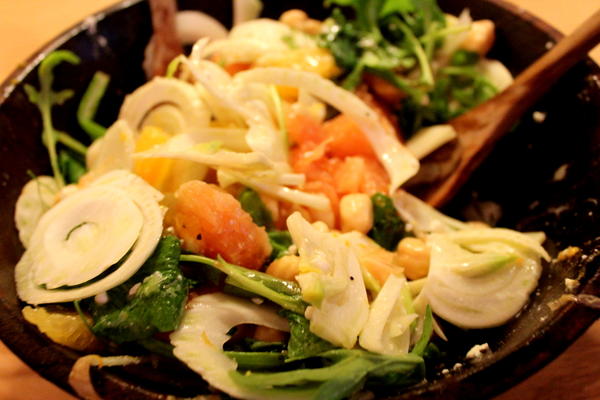 Season:

Cuisine:

Recipe: Course:

Recipe: Main Ingredient: