Fresh Tomato Tart with Chevre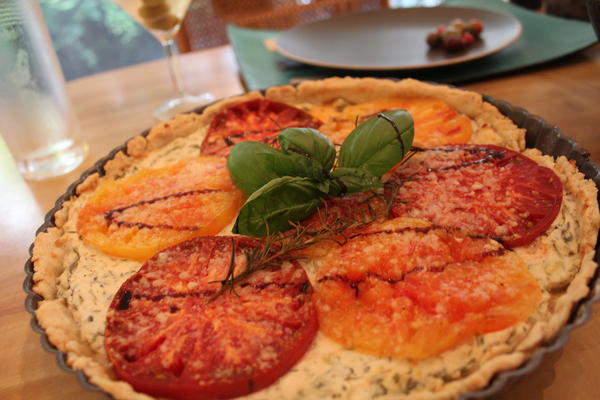 This is a recipe created by Jon's Mom based on the amazing brunch tart from A Priori Thé in Paris, hidden in the Galerie Vivienne nearish to the Bourse. It is absolutely worth the effort to squeeze into a booth here, if only for this tart. The original has a dry cheddar-like cheese (Cantal) melted on top, but we find that unnecessary, given the massive amount of cream cheese and chèvre already being used. This dish is amazing in its simplicity.
For the tart's pastry
10" tart pan:
1½ cups flour
¾ tsp salt
½ cup butter (freeze)
4-7 or so Tbsp Ice water
(depending on the humidity....add sparingly)
9" tart pan:
1 cup flour
½ tsp salt
⅓ cup butter
3 Tbsp water
Mix stir together the flour and salt.
Grate the frozen butter into the bowl, tossing the butter with the flour occasionally while grating.
Using your hands, finish blending the flour with the butter.
Add the water 1 Tbsp at a time until the crumbly dough will hold a ball.
Wrap the ball plastic wrap and refrigerate for 15 minutes.
For the filling
4-5 oz. chèvre, room temp
2-3 oz. cream cheese, room temp
2-3 Tbsp finely chopped fresh herbs (your choice - we like basil, rosemary, and thyme)
2 Tbsp milk or half and half
2 tomatoes (or more, depending on size), sliced ¼" thick
2 Tbsp grated parmesan
~1 tsp olive oil
Freshly ground black pepper
Preheat oven to 400°F.
On a floured work surface, roll the dough into a round that is large enough to fit the tart pan and come up the sides at least an inch.
Pat the dough into the bottom of the pan, and trim the edge even with the rim.
(Note: You can also do this without a tart pan - make three small rounds and pinch up the sides or make a collar of aluminum foil. Put rounds on a baking sheet.)
In a small bowl, using a fork, mix the chèvre, cream cheese, milk, and fresh herbs.
Using a rubber spatula, spread evenly over the bottom of the pastry.
(Note: at this point you can stop, place plastic wrap directly on the cheese, and refrigerate for up to 2 days.)
Arrange the tomatoes in a tightly packed single layer.
Sprinkle with the parmesan, olive oil, and pepper.
Bake until the crust is lightly golden and the tomatoes have collapsed, about 20 to 30 minutes.
Transfer to a rack and let stand for 5 minutes.
Serve warm or at room temp.
Season:

Cuisine:

Recipe: Course:

Recipe: Main Ingredient:

WikiTags: