Jose's Basque Tuna Stew
WoW...
One of our favorite recipes from our signed copy of Jose Andres' Made in Spain cookbook. Serves 4-6.
Ingredients
1 pounds fresh bonito or yellowfin tuna
2 slices day-old bread, preferably country-style
1/2 cup Spanish extra-virgin olive oil, plus more for drizzling
3 cups thinly sliced onions (about 2 large onions)
2 tbs minced garlic
2 medium green bell peppers, roughly chopped
1 pound tomatoes (5-6 plum or 2-3 medium), roughly chopped
1 pound russet potatoes, roughly "broken" into ~1" chunks using the tip of a knife
1/2 cup dry white wine
1/4 cup brandy
1 small guindilla chilli pepper (or your favorite dried hot chile pepper)
2 tsp sweet pimenton (Spanish) smoked paprika
3 cups water
salt to taste
Chopped flat-leaf parsley, for garnishing (optional)
Instructions
Cut the tuna into 1-inch cubes; place on a plate and salt; cover with plastic wrap and refrigerate until ready to use.
Heat 1/4 cup of olive oil over medium heat. Add the bread and fry for two to three minutes on each side, until golden. Transfer to a paper towel-lined plate to drain.
Heat the remaining 1/4 cup of olive oil in a large stockpot over medium heat.
Add the onions, roasted bell pepper strips and garlic; cook, stirring occasionally, for about 20 minutes, until the onions are golden brown.
Add the potato chunks and cook for 3 minutes.
Add the wine and brandy and cook until the alcohol evaporates.
Then add the tomatoes, guindilla pepper and smoked paprika, stirring to combine. Cook for ten minutes, then season with 1 to 2 teaspoons of salt.
Add the water, cover, and cook for 15 minutes, gently shaking the pot occasionally to prevent the potatoes from sticking.
Fold in the fried bread and cook for two minutes.
Add the tuna to the pot, stirring to combine. Cover and cook for three minutes. The tuna should be juicy inside and barely cooked through.
Remove the pot from the heat and adjust seasoning as necessary.
Garnish servings with chopped parsley and a drizzle of olive oil.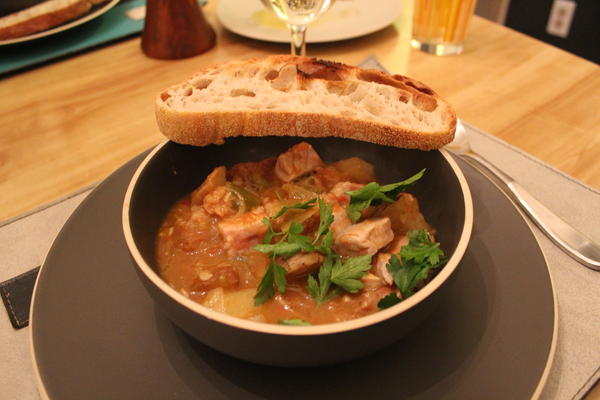 Season:

Cuisine:

Recipe: Course:

Recipe: Main Ingredient: