Kofta (Mediterranean Meatballs)
This tasty and relatively easy recipe came from this fantastic cookbook centered on one of my favorite cuisines. The recipe calls for a mix of lamb and veal, but lamb alone would probably be good too.
Makes 24 kofta.
1 lb ground lamb
1 lb ground veal
1 medium onion, roughly chopped
3-4 large cloves garlic
1/2 cup toasted pine nuts
1/2 bunch flat-leaf parsley
1 large medium-hot red chile, seeded
1.5 tsp ground cinnamon
1.5 tsp ground allspice
3/4 tsp ground nutmeg
1.5 tsp ground black pepper
1.5 tsp salt
Preparation:
Put all ingredients except meat in food processor. Chop until a chunky paste forms. Scrape out into a bowl and mix with meat until well-combined. Form into oval kofta approximately 2" long and 1" diameter.
Kofta can be mixed and shaped up to one day ahead. Chill until ready to cook.
When ready to cook, heat oil in a large frying pan over medium heat. Add kofta to pan in batches so they are not cramped together. Sear kofta on all sides until golden brown, about 4-6 minutes per side. At this point they should be medium-rare. (If you would rather eat them medium or well-done, finish in a preheated 425 degree oven for 2-4 minutes.) Drain on a rack and blot to remove excess oil.
Garnish with a bit of chopped parsley leaves, extra toasted pine nuts, and sweet paprika. Serve with your favorite yogurt sauce, hummus, or the tahini sauce below.
Optional Sauce - whisk together the following ingredients. The sauce should be a bit runnier than honey; add 1-2 Tbsp water if needed.
2/3 cup light tahini paste
3 Tbsp lemon juice
1/2 cup water
1 medium garlic clove, crushed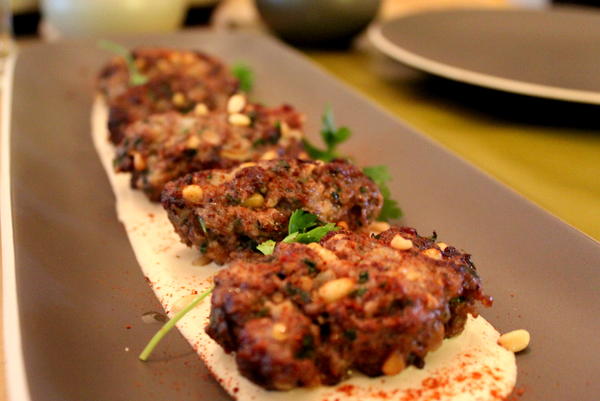 Season:

Cuisine:

Recipe: Course:

Recipe: Main Ingredient:

WikiTags: