Lao Crispy Rice Salad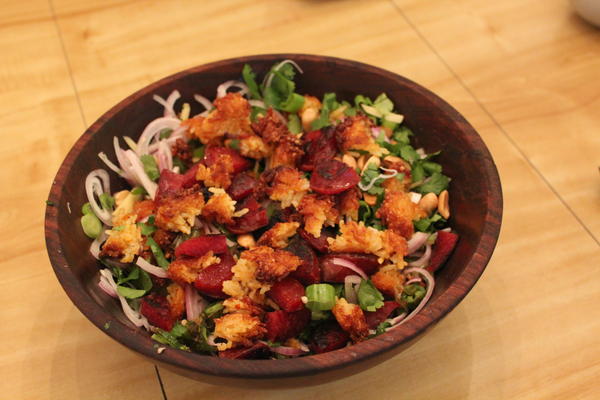 We first had this salad at a Thai/Lao restaurant in Virginia. It was freakin' awesome, and so we set making it at home. We combined three recipes and the result was quite good. We adapted the recipes to account for our love of the sweet Chinese sausage and unfamiliarity with the naem called for in the recipe.
Serves 2 as a main
1.5 cups of cold, cooked long grain rice (preferably jasmine)
1-2 tablespoons Thai red or yellow curry paste
1.5 tablespoons flour (rice or AP)
1 large thinly-sliced shallot
1" fresh ginger, peeled and cut into slivers
1 cup cilantro, roughly chopped
2 scallions, roughly chopped
1/2 cup roasted peanuts
1/2 cup sliced sweet chinese sausage, fried
2 fresh bird's eye chills, finely chopped
Juice of 2 limes
Approx 1 tsp or less of fish sauce
Mix the rice, curry paste, and flour together very thoroughly.
Form into patties (wet your hands) that are approximately 2" in diameter and 1/2" thick.
Deep fry patties until exteriors are golden brown and crunchy.
When cool enough to handle, break into small pieces.
Add shallot, ginger, cilantro, scallions, peanuts, sausage, chilis, and rice pieces to salad bowl.
Dress with juice of 2 limes and fish sauce to taste.
Enjoy!
Season:

Cuisine:

Recipe: Course:

Recipe: Main Ingredient:

Specialty Ingredients: