Mango and Cucumber Chow
Billed as Caribbean by Bon Appetit, this mango chow could go equally well with Indian, Thai, or other South/Southeast Asian cuisines. Sweet, spicy, salty, and sour -- delicious!
INGREDIENTS
1 small shallot, thinly sliced into rings
2 garlic cloves, finely grated
½ Scotch bonnet chile or habanero chile, thinly sliced crosswise, seeds removed if less heat is desired
2 Tbsp fresh lime juice
½ teaspoon kosher salt
1 ripe but firm mango, peeled, cut into ½-inch-thick spears
½ English hothouse cucumber
Small handful chopped cilantro
Toss shallot, garlic, chile, lime juice, and salt in a medium bowl. Add mangoes and cucumber and toss again.
Cover; let sit at room temperature until shallot and cucumber are softened and juicy and flavors come together, 45–60 minutes.
To serve, add cilantro to chow and toss well; season generously with pepper.
Do Ahead: Chow (without cilantro) can be made 3 hours ahead. Cover and chill.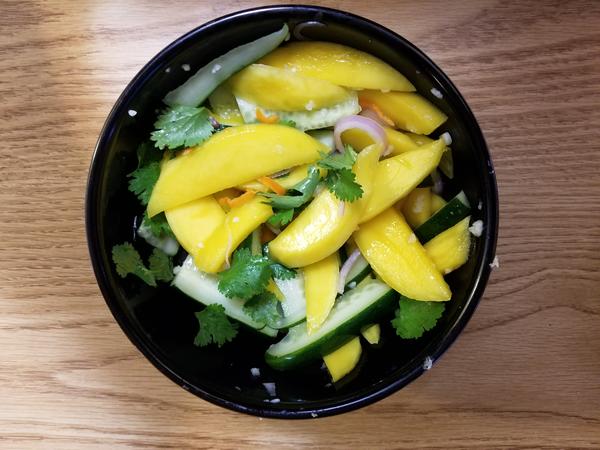 Season:

Cuisine:

Recipe: Course:

Recipe: Main Ingredient: