Pide Pizza
Based off of this recipe, we simply used a pre-made pizza dough and focused on the fillings.
Pre-heat oven to 400°F
½lbs minced beef or lamb (or pre-seasoned sausage, removed from casing)
1 Onion
2 or 3 Green peppers or red
1 large tomato
Salt and pepper to taste
1 tsp ground corriander
1 tsp ground sweet red pepper or paprika
1 tsp red pepper flakes
1 tsp cumin
½ cup finely shredded cheese to melt on top
Finely mince onion, peppers and tomato
In a little oil soften onion, then add in peppers and cook for until soft. Add in your minced meat and brown, then add in the spices and season to your taste. Finally, add in the tomato and then cook 10 more minutes.
While cooking, roll out the dough to make a large oval shape and place on a lined baking tray.
Spread the filling on the dough, leaving 1-2" around the side; fold in the sides, pinching together at the ends.
Bake in the over at 400°F for 15 mins or until light brown. Top with shredded cheese at the end.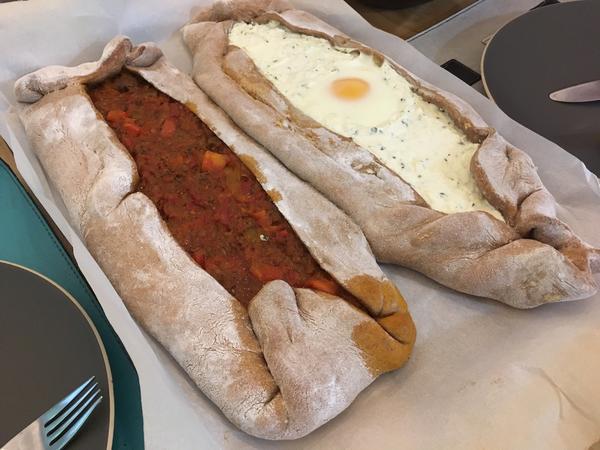 Season:

Cuisine:

Recipe: Course:

Recipe: Main Ingredient: